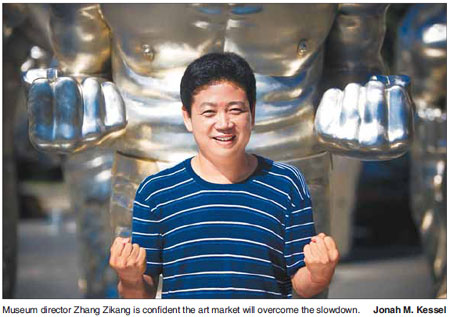 For a long time before 2004, ink painter and publisher Zhang Zikang remained a calm and patient observer of the ebbs and flows of Chinese contemporary art.
"My early knowledge about Chinese contemporary art and such terminologies as abstract expressionism, conceptual art, performance art and surrealism came from newspapers and magazines in the early 1980s," says Zhang, director of the Today Art Museum.
The venue is one of the earliest and by far the largest private space for Chinese contemporary art.
"With limited background knowledge about modern and contemporary art, I felt it hard to understand how art works could be executed in such bold and subversive manners," Zhang says.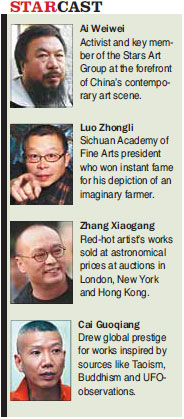 But looking back, he says "it also came naturally that pioneering art groups such as the Stars Art Group and No Name Group emerged instead and Chinese artists rushed to try their hands at the many newly imported art genres".
That was a time when the whole nation was similarly into reform and opening up, when people were thirsty for knowledge and information from the outside world to empower themselves.
"It is no wonder that experimental art, music, poems and Western philosophies were extremely popular during that time," Zhang says.
In February 1989, when China's avant-garde artists staged their first and largest group show at the National Art Museum of China, Zhang, then an art designer with the Hebei Book News, heard about the event and took a bus from Shijiazhuang in Hebei province to Beijing, without telling his family or colleagues.
Zhang said he "was totally absorbed" by the China/Avant-Garde Exhibition that was addressed as the climax of the "85 New Wave" movement and signaled the official debut of contemporary Chinese art.
Works by 186 artists, ranging from experimental ink, installations, performances, photographs and videos, challenged the conventional, Socialist realism approach to art.
Chinese contemporary art further stole the limelight in the late 1990s when local artists flooded international art biennials in Europe and the Americas, Zhang says.
Since 2000, Chinese contemporary art has found its way on a massive scale into public life at such art galas as Art Beijing, Shanghai Biennale, Chengdu Biennale and Guangzhou Triennial, exhibited alongside works by international artists.
Zhang himself was invited in early 2004 to helm the Today Art Museum, which was founded by real estate developer Zhang Baoquan in 2001.
The museum has been widely recognized as a leader among the country's private museums of contemporary Chinese art, while local media has hailed Zhang as "a key supporter and promoter of contemporary Chinese art".
Next year, Zhang will regularly show part of the museum's permanent collection, which comprises more than 2,000 contemporary works.
Still a fervent lover of Chinese ink art in his spare time, Zhang continues to pin high hopes on Chinese contemporary art.
The soaring prices at auctions over the past years also do not necessarily justify the academic value and the position in art history of certain contemporary art pieces, Zhang says.
Likewise, the current lackluster art market does not mean contemporary Chinese art has come to an end, he says.
This is because "the vast lands, widely different local cultures and rapidly changing economic, social and cultural scenes in China will lend great strength to contemporary art in the coming years", Zhang says.
"We are happy to be part of this rosy future."
Time line
1920
Artist Lin Fengmian (1900-91) goes to France to study Western painting. He returns to China to head the Beiping State Vocational Art School, the cradle of modern Chinese art.
1953
Artist Dong Xiwen (1914-73) creates "The Founding of the Nation" to capture the proclamation of the People's Republic three years earlier. The work becomes a milestone in Chinese oil painting.
1953-1966
Oil painting takes a more proactive sociopolitical role as revolutionary realism is entrenched in everyday consciousness.
1966-76
Oil painting stresses revolutionary optimism through vermilion and bold colors to depict heroic figures and grand scenes during the "cultural revolution".
1979
The Stars Art Group, formed by young artists such as Ai Weiwei, Bao Pao, Huang Rui, Ma Desheng and Mao Lizi, holds the first public group show of Chinese contemporary artists.
1989
The China/Avant-Garde Exhibition pushes the "85 New Wave" to its climax, showing some of the seminal works by China's first generation of contemporary artists.
2001
Huang Rui, a member of the Stars Art Group, introduces what is now the 798 Art Zone, one of the largest hubs of Chinese contemporary art in Beijing.
2005
The first China Songzhuang Art Festival opens, with some 600 works by 300 artists.
2006
Zhang Xiaogang's oil painting Comrade No 120 sells for a record $979,200 at Sotheby's New York sales.
2008
Synthetic Times, Media China 2008, the first and largest new media exhibition, is staged at the National Art Museum of China.