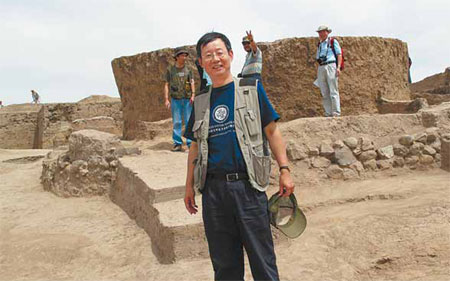 Zhao Zhijun gave up the American Dream to take advantage of the bigger platform and opportunities presented by China's archaeological heritage. Courtesy of Zhao Zhijun
[China Daily] 
When Zhao Zhijun gave up his big houses, cars, comfortable job and green card in the United States - things that made up the American Dream - and headed back to China, many people called him "crazy".
One decade later, the archaeologist is China's leading expert in archaeobotany, or the study of plant remains from archaeological sites to identify the origins of agriculture or the co-evolution of human-plant interaction.
"I bet you won't find a more exciting playground than China in the coming decades for archaeologists across the world," Zhao says in his Beijing lab.
A graduate in archaeology from Peking University in 1982, Zhao, like most of his peers, had longed to go to the US for further study. The chance came in 1989 when he was given a scholarship to study at the University of Missouri, at Columbia.
By the time he got his doctorate from the university in archaeobotany, the field which was widely practiced in the US, remained rarely known in China.

Upon his graduation, Zhao had two choices: Staying in the US for a comfortable life or going back to China where he could find a bigger stage and opportunities to test himself.
Based on his frequent visits back to the country for regular field research, Zhao knew that China had been actively embracing new theories and technologies in the subject over the previous two decades.
"There are simply so many new archaeological findings each and every day, thanks greatly to the country's recent construction boom brought by its fast economic development," Zhao says.
But Zhao had remained hesitant until he tried out his first choice by working for a few years at a museum in Kansas City - a job he could fulfill without his years of academic training in the US.
In 1999, Zhao felt he could no longer resist the "magnetic spell" cast by his homeland.
"Deep in my heart, I know archaeology is experiencing a golden age in China," he says.
Zhao returned to China and opened a lab at the Institute of Archaeology in Beijing, which at the time lacked many of the modern facilities common at any American university.
But as archaeology attracted attention, central and provincial governments were already spending more on new facilities and better salaries.
Zhao had a budget of 1.5 million yuan in 2008. His modest lab in a Beijing suburb has an enthusiastic staff of mostly young researchers.
Some are specialists in dating ancient wood - dendrochronology - while others analyze spores and pollen to understand ancient environments.
As a construction boom continues to alter the physical landscape of the country and inadvertently uncover vital clues to China's past, Zhao, along with most archaeologists in China, has to rush to archaeological sites one after another before he can spend as much time as necessary in the lab for research.
"Back in the United States, you complain about no new discoveries available for research," Zhao says.
"Here we have too many."
Time line
1972
Discovery of Mawangdui Han Tombs - an open book to China's Western Han Dynasty (206BC-24) - reveals the corpse of a noble lady and other articles buried with the dead, all extremely well-preserved for more than 2,000 years.
1973
The Hemudu Cultural Relics, the remains of a primitive tribe of China's Neolithic age, prove that Chinese people were among the world's first to cultivate rice.
1974
Emperor Qin Shihuang's terracotta army, later known the "Eighth Wonder of the World", is unearthed.
1984
The unearthing of large palatial remains at the prehistoric Sanxingdui sites, proving Sanxingdui was home to an ancient city, previously the political, economic and cultural center of the ancient Shu Kingdom, now in Sichuan province.
1987
Discovery of Nanhai No 1, a merchant vessel shipwrecked about 800 years ago, boosts China's underwater archaeological studies.