When TV sets firmly made their way into Chinese people's homes shortly after the 1980s, presenters repeating lines from tiny prompt cards and beaming performers in gorgeous garments formed most of the offerings that strained to move audiences.
Apart from popular drama series, the most-viewed programs then were State broadcaster CCTV's News Broadcast, a daily news bulletin hosted by straight-faced anchors, and the Spring Festival Gala, shown on the eve of every Lunar New Year since 1983.
So when Long Mei and her team launched Happy Citadel (Kuaile Dabenying) in 1997, the Hunan TV variety show was destined for success.
"What viewers needed then was a show that relaxed them after a hard week's work. But there was no such offering before our show most of the TV programs were wooden, serious and preachy," says Long, 38.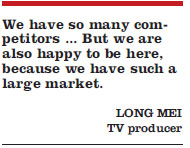 So on Happy Citadel, offerings included celebrities delighting viewers by playing games with ordinary people on the set. It was not long before the program became a mainstay of Chinese TV.
Stars who initially appeared on her show were also young and ready to try new things.
It took Long and her team one year to prepare for the program. They watched numerous entertainment and variety shows from Hong Kong, Taiwan, the United States and Europe for ideas.

Inspired by other shows at first, Happy Citadel soon had a number of copycats. Almost all provincial TV network had a similar show every weekend in the late 1990s.
Many called Happy Citadel the initiator of the "entertainment era of Chinese TV".
That era continues today with Happy Girls, a Chinese version of the American Idol singing contest, and other similar programs that form the most popular TV shows.
But many say the educational mission of Chinese mainland TV continues, partly because of the traditional belief that networks still come under the government and play a role in cultural development.
To that effect, Long says the sexually suggestive jokes one sometimes sees on Hong Kong and Taiwan programs can never appear on her show.
Still, critics often blame mainland entertainment shows for "amusing the public to death" or "vulgarizing aesthetic standards".
Long disagrees.
"It would be very easy to use vulgar jokes and gestures to get attention," she says.
"But I believe only healthy entertainment can last."
That seems to be working for her show, which is into its 12th year.
Long also keeps her team young, with its members' ages averaging at 27. They are sensitive to new trends, buying fashion magazines and hitting bars regularly.
Her employees also catch the latest shows worldwide to search for new inspiration.
"Doing entertainment shows in China is very hard," she says.
Time line
1953
Engineering representatives visit the Soviet Union and Czechoslovakia to study TV technologies.
1955
Premier Zhou Enlai adopts a proposal to establish China's first television station in Beijing.
1958
The newly set up Beijing TV station begins broadcasting. Programs include live news and dramas. Shanghai and Harbin, capital of Heilongjiang province, establish their own TV stations.
1960
More than half of China's provinces have established TV stations.
1963
Due to economic difficulties, the number of municipal TV stations drops from 23 to 8.
1978
The Beijing TV station is renamed China Central Television (CCTV). Its News Broadcast daily news bulletin becomes the most-watched TV program in China.
1982
The first Lunar New Year Gala of State broadcaster CCTV is aired and becomes the most sought-after platform for performers nationwide with its estimated audience of 700 million people.
1991
TV series Yearning (Kewang) is aired and Beijing police reportedly thank the crew for their contribution to less crime, because the show is so popular that everyone stays at home to watch it at night.
2005
Second season of singing contest Super Girls rocks the whole country with its young contestants, many of whom become stars.