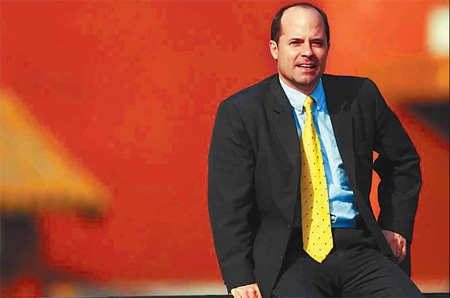 David G. Brooks first arrived in China in 1975 and found "a sea of monochrome". Courtesy of David G. Brooks
When David G. Brooks wanders about a supermarket in Shanghai, it seems a world apart from his expatriate life of more than 30 years ago.
"I went to the supermarket with my family during the weekend and there were stands offering a vast selection of every book imaginable from around the world translated into Chinese," he says.
"There is a degree of openness, not just with books but also with movies and the Internet, that would have been unimaginable in the 1970s."
Brooks, a senior executive with Coca-Cola in Shanghai, first came to China in 1975 when everyone rode bicycles and wore Mao suits. It was a "sea of monochrome".

He was the 13-year-old son of a United States diplomat who worked in the new liaison office in Beijing established after President Nixon made his historic visit to China in 1972. Brooks came with his sister and two younger brothers.
"Before we arrived we were told that China was a boring, fairly lonely place and not a nice place to go. But we found it was pleasantly not like that. People everywhere rode their bikes and children played in the parks," he says.
Brooks went to the No 55 Middle School in Dongzhimen, which was one of very few schools that admitted foreign students.
There were no pocket calculators (ubiquitous then in the West) and the students used an abacus instead.
"I had a photo album about the Apollo moon landings and my classmates thought it was interesting because they had never heard anything about them men who had been to the moon," he says.
"China was operating in a way that had not changed since the 1950s. There was no real technology per se."
Although he was one of few pupils to be allowed to wear blue jeans, Brooks had to work in the school factory (then a key feature of Chinese schools) making fluorescent desk lamps. The school encouraged children to learn practical skills.
"After the first day I was told to bring in a knife. In America you weren't allowed to carry knives but in China it was a requirement to have a pocket knife."
Brooks left after two years to continue his high school education and went on to university in Wyoming, although he visited China every Christmas and summer since his father had become consul general.
He came back to China full-time in 1985, working in Beijing for a law firm doing translation work and foreign investment negotiations. After the country's reform and opening up, he was aware China was a different place to work as an expat.
"Changes were happening fast. There were many more foreign companies in Beijing and the world was much more engaged with China. You had China Daily also, which didn't exist in 1975," he says.
Brooks now lives in Shanghai with his Belgian wife Patricia Lambert, 47, and their two children Nicolas, 16, and Oliver, 14. His sister Susan Leary, 45, also runs a school in China.
His parents, Thomas S., 77, and Claire, 76, now live on a ranch in Wyoming. All family members speak fluent Mandarin.
"My parents visit regularly and my father likes mountain climbing. When he comes down from a climb, taxi drivers get a big surprise when this 77-year-old bearded American gets in and speaks fluent Mandarin," he says.
He says China became a much more open place to live and work in the 1990s and there was no longer any sense of isolation for foreigners.
"It was very much a two-way process. There was much more engagement between China and the West."
Brooks and his wife have many Chinese friends and love to spend their time browsing markets and shops for Chinese art and antiques.
"We buy a lot of things from the 'cultural revolution' (1966-76) and from Shanghai in the early 20th century," he says.
Brooks, who has lived in China for nearly 20 years and in his native US for only seven, says it is possible to have a more layered lifestyle in China.
"In the United States, your neighborhood defines much of what you are and what you do. China gives you the opportunity to go out and see lots of people from different backgrounds. I can get on my bike in the morning and encounter peasants in the fields who will tell me their life stories," he says.
"China may have changed but it has also kept its common human touch."