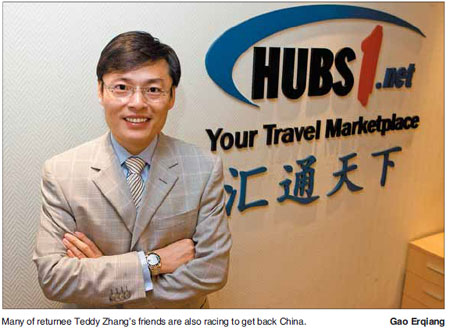 It is used to describe turtles that are born on shore, grow up at sea and eventually head back to land.
Haigui, or "returning sea turtle", is also description of the flood of overseas-educated Chinese who are returning to their homeland and has become one of the most popular terms in the media in recent years.
Teddy Zhang is a Haigui and his story is typical of immigrants who succeeded overseas.
Zhang graduated from Cornell University's school of hotel administration and holds an MBA from the Wharton School. He held various executive positions of major international hotel chains but finally moved back to his birthplace of Shanghai.
"As an emerging market, China is full of opportunities. The tourism and hospitality industry contributes to a great part to the US economy. But in China, it is still at a low level," he says.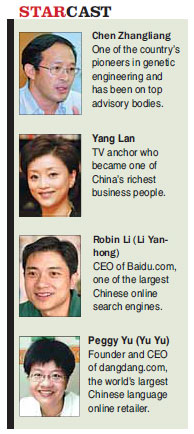 Since 1978, when the country first allowed students to go abroad, more than 1.3 million Chinese have reportedly gone overseas to seek better opportunities and futures. The trend was such that when they left, they left for good.
But more overseas Chinese are now returning for the same reasons that they left. More than 300,000 of people like Zhang have come back home, with half of them starting their own businesses, mostly in the hi-tech field, Ministry of Education figures show. The wave of returnees is expected to grow by more than 10 percent in the next few years.
With more than two decades of experience in the travel and hotel sector, Zhang launched the Shanghai-based HUBS1 Company and introduced a new distribution system for the hotel market in China. The Web-based platform enables hotels to manage their booking process in real time, with updates instantly reflected across all distribution channels.
But opportunity always comes with risk and Zhang, who considers himself to be risk averse, says he spent a whole year before deciding to go out on his own.
"I am sort of traditional. All my education on management and investment is about avoiding risk," he says. "But once I make a decision, I will never regret it."
So far, about one-third of the country's 15,000 hotels have joined his system. HUBS1 was also selected as the exclusive hotel reservation service provider for the 2010 World Expo in Shanghai. The event is expected to attract 70 million visitors from more than 200 countries, which would make it the largest human gathering in history.
Still, like most other Haigui, Zhang experienced culture shock upon his return to his homeland - as much as when he landed in a foreign land for the first time.
"It is difficult to make any quick changes, but what I do now is influence the whole industry in the country. On the contrary, if I had chosen not to return, I would never be able to influence anything even if I do well in the US," he says.
Zhang's efforts seem to be making an impact. Earlier this year, the industry named him "the most influential executive for its China hotel online distribution".
"The country is now rapidly developing," Zhang says.
"Traveling back and forth between China and the US, I notice that many of my friends in the West are now racing to get into China.
"I was fortunate to make my decision before them, but opportunities always come for those who are prepared."
Time line
1950-1960
China sends a total of 16,000 teachers, graduates and interns to the USSR and Eastern European countries.
1960s
Exchange programs with the USSR are halted after the Sino-Soviet split.
1972-1973
China starts to send a selected number of youths to study foreign languages in Western countries, including the UK and the US.
1978
China's reform architect Deng Xiaoping stresses importance of sending students to study abroad to accelerate the country's development and reduce the gap between China and developed countries. Since then, the government has continued to select outstanding students for overseas study, mostly to Western countries.
1985
China introduces policy allowing self-funded studies abroad. Overseas universities also start offering scholarship to Chinese students. Few students return home after completing their studies abroad. Most choose to work and stay overseas due to the better living conditions and opportunities.
1990s
More students head overseas along with economic development and rise in incomes at home. Overseas education agencies began to make their mark. These agencies later become the main channel for students to study abroad. The government begins to examine the quality of education agencies to protect students' rights.
More students choose to return to China after finishing their study abroad due to the country's rapid development.
2008
Over the past three decades, about 1.4 million people studied abroad and 400,000 overseas students headed home. In 2008 alone, 179,800 people studied abroad and 69,300 returned after graduation, increasing 24.43 percent and 55.95 percent year-on-year.