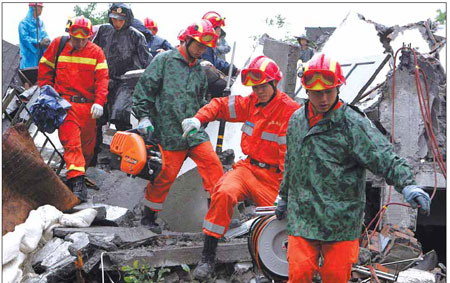 Rescuers look for earthquake victims in Dujiangyan, Sichuan province, in the immediate aftermath of the May 12 tremor. [Xu Jingxing
] 
Deep in the back of his mind, Liu Xiangyang keeps a story about a nurse.
In it, the healthcare worker is wedged under a cement slab, her two legs crushed under debris. Without the proper tools to extract her, rescuers can only feed the woman food and water to keep her alive.
The nurse dies after a week, another victim of the 7.8-magnitude earthquake that hit Tangshan city in Hebei province in 1976.
"There were many cases like this one in the Tangshan earthquake. If people had what we have today, those victims could have been saved," says Liu, 40.
Liu is the deputy chief of the China International Search and Rescue Team.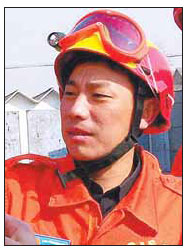 His rescuers now have access to rescue equipment and facilities that are a world of difference from what was available during and before the Tangshan quake, which killed more than 240,000 people. In a geographically expansive and varied country like China, that difference can mean saving countless victims of natural disasters.
In the May 12 quake in Sichuan province that killed more than 69,000 people last year, Liu's team faced a disaster victim pinned 3 meters underground from a collapsed six-story building of Dujiangyan Hospital.
Liu stopped doctors who wanted to amputate the victim's limbs to get him out of the rubble. Using airbags, hydraulic jacks and stretching pliers, his rescuers saved the man after three hours.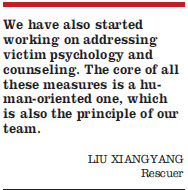 "We were able to get these people out, no matter how deep they were," Liu says.
"At the time of the Tangshan earthquake, there were only simple tools like picks and shovels. People could only save survivors at the surface of debris," he says.
On May 12, 2008, his team headed for the quake zones 14 minutes after they were alerted.
In the next 17 days, they worked for 216 hours at 48 sites, rescued 49 people, helped locate more than 300 others and removed 1,038 bodies.
"We were part of the backbone of rescue efforts in the Sichuan earthquake. We know where to go and how to save people," Liu says.
To maintain their quick response to emergencies, Liu says his team has regular training sessions of more than three hours every day, as well as coordination programs with other teams every two weeks and drills every six months. Other state-of-the-art rescue equipment includes optical, infrared and sound wave life detectors.
A joint mechanism has also been established between the China Earthquake Administration and other groups such as land, sea and air forces to ensure timely response and coordination.
"Thirty-two years ago, the army took trucks of rescuers to Tangshan. This time, we took planes of the air force and were the first to arrive in the Wenchuan quake zone in eight hours," Liu says.
Other mechanisms that have been crucial to disaster relief include a 24-hour real-time monitoring of disasters at home and abroad, real-time communication systems as well as emergency plans for natural disasters at various levels.
"We have also started working on addressing victim psychology and counseling. The core of all these measures is a human-oriented one, which is also the principle of our team," Liu says.
Set up in October 2001, the professional search and rescue team has nearly doubled to 500 rescuers.
Two years after its establishment, the team has proved that they have the requisite capability for international search and rescue operations.
The team headed to Algeria for its overseas mission when a quake struck the region in 2003. The Chinese rescuers were part of 38 international teams and became one of two teams to save victims.
In the following years, the Chinese rescuers have helped with disaster relief in Iran, Indonesia and Pakistan.
Currently, Liu says his team is training for the upcoming United Nations classification for rescue work this month.
"I'm confident that we can meet the standard to become a heavy-rescue team," Liu says.
"By then, we can help out anywhere in the world."
Time line
1954
A great flood along the Yangtze River kills 30,000 people, endangers nearly 20 million others and destroys more than 4 million houses. About 63,000 soldiers are deployed for rescue and relief efforts.
1959-1961
Another great flood along the Yangtze River in July 1959 and subsequent famine from a poor harvest kill about 2 million people. International aid is rejected on grounds of self-reliance.
1975
Successful forecast and evacuation prevent massive damage after a 7.3-magnitude earthquake shocks Haicheng county, Liaoning province, in February.
1976
The 7.8-magnitude Tangshan Earthquake kills 240,000 people in Hebei province. More than 100,000 soldiers are deployed.
1981
210,000 troops are deployed after six mountain floods hit Sichuan province between June and September.
1987
35,000 troops are deployed for rescue and relief efforts following an historic forest fire in Daxing'anling of Heilongjiang province. China raises its first request for international aid since 1949.
1998
The Great Flood along the Yangtze River kills more than 3,000 people. About 300,000 troops, 2,200 military planes, 12,500 cars and 1,170 boats are deployed.
2008
Approximately 146,000 troops, armed police, reservists and police are engaged in rescue and relief efforts of the 8.0-magnitude Sichuan quake that results in nearly 90,000 people dead or missing.