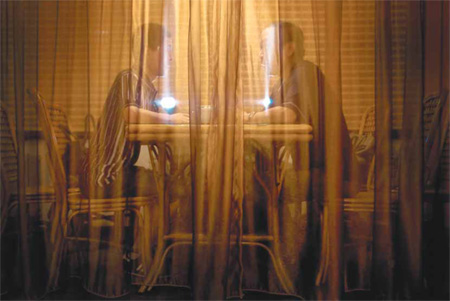 Dr Bai Zhixue, who is infected with the HIV virus, counsels a patient in a restaurant in Beijing. [Jonah M. Kessel
] 
Dr Bai Zhixue looks back on his life and says he has served each role with love and responsibility.
Being infected with the human immunodeficiency virus (HIV), which causes AIDS, does not change any of that.
"I am as good as I was before," says Bai, who is in his 50s and professes to be a caring father as well as a filial son.
"In case anyone - either HIV patients or those living with HIV and without it - fail to see that, I am here to remind you," he says.
"HIV/AIDS is not a crime one has to be ashamed of for the rest of his or her life."
"As a doctor, I've seen how diseases can affect lives, but none are comparable to HIV/AIDS in the way it pushes one to the edge of despair," Bai says.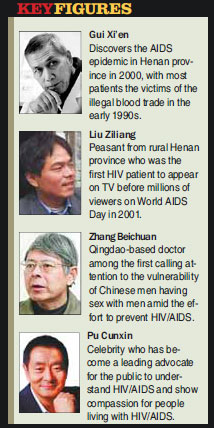 "That has little to do with the physical aspect of the disease. It is a chronic disease, which has been far from being fatal for more than a decade. But today we still hear it being called a 'deadly disease'."
Before he was diagnosed with HIV in 2006, Bai had a life not much different from most of his peers. Few knew of his homosexuality, which the divorced Bai says he had come to terms with long before.
In the eyes of many, Bai is also a proud father who has sent his only daughter abroad to study. He has witnessed her embarking on a good career and a happy marriage. Similarly, Bai has been taking good care of his parents and his patients.
The doctor says he has no more to ask of life. Bai was diagnosed with the virus in 2006. His career suffered and during his 40-odd days of hospitalization for the disease, none of his colleagues visited him.
On the first day he went back to work, he was told to refer all his work to a colleague as soon as possible. He was also told not to work anymore "for the sake of his health" even as he continued to receive his salary.
He was heart-broken at the discrimination but he kept silent.
During his treatment for HIV at the You'an Hospital, one of the two main hospitals in Beijing dedicated to treating the disease, Bai says he saw many others in despair when they acknowledged their infections.
The country reported its first case of AIDS in 1985. By 2007, 77,000 were diagnosed as AIDS patients while some 700,000 were believed to be living with HIV, according to official sources.
At the same time, sexual transmission, especially among men having sex with men, overtook intravenous drug use to become the leading cause for HIV infection - indicating that the epidemic was moving outward from high-prevalence groups traditionally associated with the HIV epidemic in China.
Bai subsequently volunteered at You'an Hospital to help with psychological counseling for those infected with the disease. He also co-founded the "Quiet Garden" workshop of the hospital.
"We call our workshop 'Quiet Garden' because that's what a person would usually need in times of illness," Bai says.
"We hope to offer such a place for AIDS patients for a chance to restore their confidence in life and return to society as happy and responsible citizens," he says.
Time line
1985
China's first AIDS case is reported in Beijing.
1987
China sets up a national program for AIDS prevention and control.
2000
An epidemic in Henan province gets worldwide attention.
2003
Wen Jiabao becomes the first Chinese premier to shake hands with an HIV-positive person on World Aids Day.
2006
Sexual transmission overtakes intravenous drug use to become the leading cause of HIV infection, indicating that the epidemic is moving outward from high prevalence groups traditionally associated with the HIV epidemic.