Liu Dalin, the founder of China's first sex museum, is not proud of helping send his former colleagues to hard labor for their extra-marital flings, but during the height of the "cultural revolution" (1966-76) this kind of sentencing was fairly standard.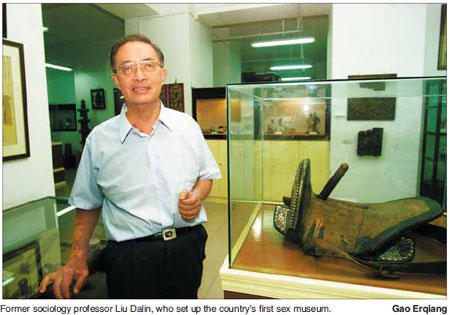 "I was working at a garment factory at the time and I had to attend three such meetings in as many years, where I was asked to criticize the philanderers," the 77-year-old told China Daily.
"I remember there was one very good-looking married lady, a university graduate in her 30s, who had sex with a man seven years younger than her in a public park. They had to write to condemn themselves and were sent to the countryside to work, and this was a time when conditions in the countryside were very, very harsh."
Liu, a former sociology professor at Shanghai University who has been called China's answer to Alfred Kinsey, said sexual relations were still seen as dirty and obscene in the 1960s, with love and sex unofficially forbidden at Chinese universities.
Pre-marital sex was happening but it violated centuries' old tradition, which dictated chastity before marriage.
When New China was founded 1949, Liu, like most 17 year olds, had no idea about what conjugal relations even meant.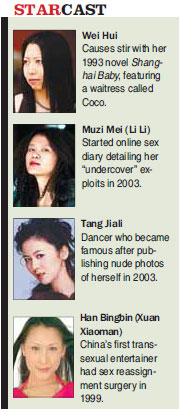 "I was totally clueless. There was no talk about it, no sex scenes in movies, or books, there were no sexy posters of women. I knew something about the word love, but sex was never talked about," he said.
These traditional sexual mores persisted for the next three decades as feudal and left-wing ideologies refused to give way to more modern ideas about sexual freedom, while the poverty of the national economy meant that basic needs like food and accommodation took precedence.
The development of the economy and former premier Deng Xiaoping's policy of reforms and opening-up helped liberalize people's thinking.
However in the late 1970s, when university students were starting to embrace the idea of romantic love, Indian movies featuring belly dances and other forms of sublimated sexuality in popular culture were still able to cause a sensation.
"There was a kissing scene around that time in a movie called Love in Lushan Mountain that startled people and triggered a lot of criticism," he said.
During the construction of Beijing Airport at the end of the 70s, artist Yuan Yunsheng created a mural of three Dai (an ethnic minority) women bathing in a river and washing each other's hair. It drew a lot of visitors in the first month after the airport opened and the mural was unveiled. However, soon serious criticism from other artists and the public followed. The airport staff had to board up the painting. It wasn't until 1990 that the cover was removed and the mural brought to light.
According to Liu, there was a time in China's ancient past, when people were liberal in terms of their sexuality, however the door is still "only half open, not fully open."
"Up until the Tang Dynasty (6th century to 9th century) Chinese had a very open attitude to sex. One of the reasons I opened my museum was to educate people about the fact that Chinese were not as conservative about this as people think," he said.
"Visitors are often surprised when they see I have sex toys made out of stone dating back 3,500 years."
Yet there is still resistance to too much liberalization, he said.
"We weren't allowed to advertise our Nanjing Road branch in 1999, and we had to close our branch inside the Tunnel of the Bund last Christmas and move to the neighboring town of Tongli because the owner refused to renew our lease, complaining that it was making the place too sordid," said Liu.
"But when we moved to Tongli, the local government welcomed us with open arms and gave us 10,000 acres. About 95 percent of our visitors show us their support and say what we are doing is really brave, which proves that mainstream society now regards sex as normal and healthy."
Time line
1950
The Marriage Law establishes sexual equality in legal terms, making marriage more of a personal choice based on feelings rather than a decision among families tied to Confucian ideals.
1960s-1970s
Sex becomes a social taboo; descriptive, hand-copied underground literature becomes one of the few sources of sex education for youngsters.
June 1979
A photo of a couple kissing on the back cover of Popular Cinema magazine infuriates one-third of its readers and sparks a national debate on sex. The still, taken from the British movie The Slipper and the Rose, is considered one of the first moves toward China's sexual liberalization.
1988
The Ministry of Education and the State Family Planning Commission begin sex education in middle schools, although boys and girls are still separated for discussions on sexual organs.
2001
The Association of Psychology reflects more liberal attitude toward homosexuality by no longer regarding it as a psychological or physical abnormality.
2003
First annual Guangzhou Sex Festival held to "build awareness of healthy sex". It now attracts hundreds of thousands of visitors and includes a lingerie catwalk show.
Dec 1, 2008
Sex education begins at Chinese primary schools.
2009
Government orders Love Land to be torn down before the sex-themed amusement park in Chongqing is fully built, inviting a mixed response from the public. It was originally scheduled to open this month.