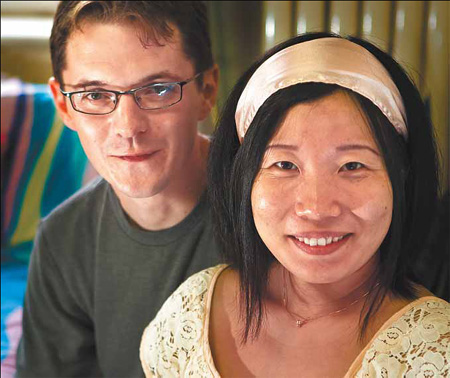 American Paul Cokeley and his local wife Li Jie are not daunted by any clash in culture over raising their child. [Jonah M. Kessel]
Li Jie swore she would never date another foreigner, after her Canadian boyfriend ended their relationship because of his mother's scorn.
Till she met her future husband and father of her unborn child, United States citizen Paul Cokeley.
When Cokeley arrived in Beijing in September 2007, one of the first things he noticed was Li's MySpace blog.
"He found I was having a hard time in life and was interested in what was happening to me," says Li, 29.
"At the same time, he had no idea about life in Beijing - where to go, how to eat, where to go for help."
After communicating online for a month, the two met for lunch and soon became a couple.
They married on March 7, joining the ranks of the 60,000-some international couples who marry in China every year, according to Ministry of Civil Affairs figures.
Overwhelmingly, it is Chinese women marrying foreign men, as in the case of Cokeley and Li. Like them, most meet in the country's major metropolises.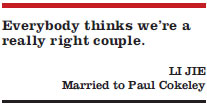 Such marriages were scarcely heard of from New China's founding until the mid-1980s. Since then, the number of international marriages has steadily grown alongside the influx of foreigners, although some surveys hint at a drop since the financial crisis.
Cokeley and Li will hold their Chinese-style wedding ceremony next Spring Festival. Five of the groom's family members will be attending, together with a number of his friends. More than 50 family members and friends from Li's side will also be celebrating their union with them.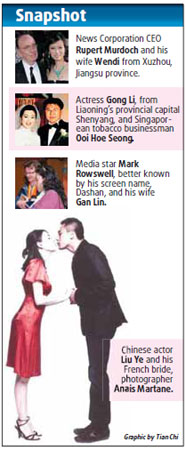 Li recalls being "immediately attracted" to the 31-year-old university math instructor but had no hope for a future together, because he planned to return to the US a year later.
She also remembers what happened after the Canadian - whom she says was her only other boyfriend - visited her in China without telling his mother.
"When she found yuan notes in his pocket, she was very angry," Li says.
"She thought that because he met me online and I'm Chinese, I just dated him to live in Canada and we had to end it. I didn't want the same thing to happen with Paul."
But it was different this time. Cokeley already talked about getting serious the second time they met.
"Of course, we had a lot of problems when we started out because we had different cultures and mindsets," Li says.
"If Paul's angry, he just tells me, 'I'm very angry', and Chinese women - maybe all women - are very sensitive. Actually, we just have normal fights, not ones involving culture."
But Cokeley's kindness, intelligence and optimism vastly outshone any cultural differences, she says.
"He did a lot of things that made me feel I could spend the rest of my life with this guy," she says.
"He really does a lot of work for our future."
A big step for her was when he arranged for his family to visit Beijing to meet Li because she could not get a visa to the US.
"Before his mom left, she gave me her mother's ring," she says.
"I thought then, 'She really likes me and treats me like her daughter'."
The couple hopes to move to the US after their baby is born.
Li will not be able to get a visa for another year because she is pregnant. She says she appreciates the sacrifice Paul has made for her by staying in Beijing, far from his family.
He wants to move back to the US because of greater convenience, smaller crowds and higher salaries, Li says.
"If I can't get a visa again next year, we'll have to stay for an even longer time," she says.
Neither is daunted by any clash in culture over raising their child.
"Chinese families really spoil their kids and I don't think it does the kids any good," she says.
Their biggest concern is deciding which language to teach their child first. Li says she will speak Chinese and her husband should speak English.
While she knows of many Chinese girls who are occasionally insulted by strangers on the street for dating foreigners, Li has never experienced such discrimination.
Still, there are occasional stares from strangers on the streets.
"I think people are still interested to know why I am dating a foreigner," Li says.
Friends, however, fully approve of their relationship.
"Everybody thinks we're a really right couple. And everybody who meets Paul tells me I'm really lucky," Li says.
"I think I am, too."