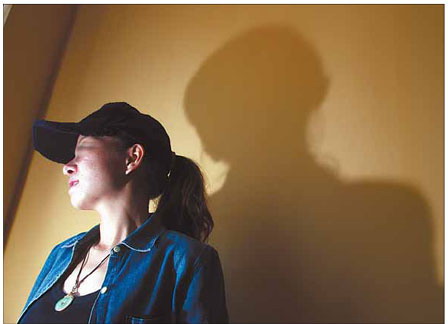 Fang Min knows exactly the suffering from drug abuse and uses that experience to help others. [Wang Jing
] 
Fang Min vividly remembers her first heroin hit provided by friends in her home region of Guizhou province when she was 20, pretty and rich.
"I thought it was classy then, that it was a good way to flaunt wealth," says Fang, now 33.
The next decade, however, proved to be a nightmare for her.
"The prime of my youth was wasted in my attempts to quit drugs and the relapses I suffered," Fang says.
"To get money for drugs, I flitted from one rich man to another. I was constantly afraid of dying just like my young 'friends' who overdosed. My parents had abandoned me."
Fang has not touched heroin for the past three years, but she knows she will never be able to get it out of her system entirely.
"Quitting drugs takes a lifetime," she says.
Fang can be counted among a rising number of youngsters in cities who took to drugs, as they enjoyed the greater freedom that came with the country's growing economy and more open society.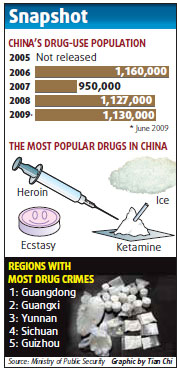 Illicit drugs were generally absent in the country from 1952 to 1979, figures from anti-drug agencies show. But the land, water and airways that were opened up following economic reforms saw drugs, mainly opium and heroin, starting to spread.
In the early 1990s, new types of narcotics began to appear.
The 2009 International Narcotics Control Strategy Report of the United States Department of State said that 62 percent of drug addicts registered for treatment in China were under 35, even though the Narcotics Control Bureau of the Ministry of Public Security said in its recent report that the number is declining.
The trend among young urban users has been fueled largely by their rising disposable income, it said.
In 2003, Fang left Guizhou for Beijing and thought she was free from drugs.
She did not touch drugs during her first six months in the capital, but she relapsed when she found out where to buy heroin.
"I got caught by police and was sent to a rehabilitation center," she says.
But Fang was lucky enough to be chosen for a special drug rehabilitation program named Sunflower. She stayed there for half a year and received detoxification treatment and psychotherapy.
Sunflower also taught her skills like using the computer and surfing the Internet.
"I felt like a normal person again who could live without drugs," Fang says.
Her drug-free days lasted nearly eight months after she left Sunflower.
"I was just too confident at that time. I thought it was a one-time thing that I could handle and easily get over," she says.
Fang was subsequently put on the methadone drug therapy to help her quit again. She also took part in various anti-drug activities run by nongovernmental groups to share her experience with others.
Last year, Fang and three friends who all used to be drug addicts started a grassroots organization to support those who wanted to quit drugs.
They opened hotlines providing consultation for people with drug problems, helped transfer drug addicts to methadone clinics and organized outreach activities to prevent the spread of HIV infections through needle use. They also helped local police educate addicts in rehab and raise drug awareness among the public.
The work, while meaningful, is also challenging, Fang says.
"What concerns me most now is the rising number of new drugs like ice, ecstasy, ketamine and triazolam, which are largely available at nightclubs and bars and getting popular particularly among the young," she says.
"I see a lot teenagers during our outreach activities using new drugs for fun," she says.
"Worse still, they don't consider it harmful at all."
Healthcare professionals have said that such drugs damage nerve systems and lead to hallucinations.
Fang says she will continue helping others like herself who have suffered from the evils of drug use and is cautiously optimistic about what lies ahead.
"The war against drugs will never end," she says.
Time line
1952-1979
Illicit drugs are generally absent from the country.
From 1978
Land, water and airways opened up with reforms. Drugs, mainly opium and heroin, start to spread in the country.
From early 1990s
New type of drugs begin to appear.
From early 21st century
New drugs start to grow at a very fast pace, particularly in major cities.
June 1, 2008
New national Narcotics Control Law comes into force. It is the first comprehensive national law touching every aspect of drug control in China and is designed to provide a supportive legal environment for the prevention of, and punishment for, illegal and criminal acts involving narcotic drugs.