Lawyer Zhou Dan lives with his partner, plays an active role in gay events and speaks outright for gay rights in public.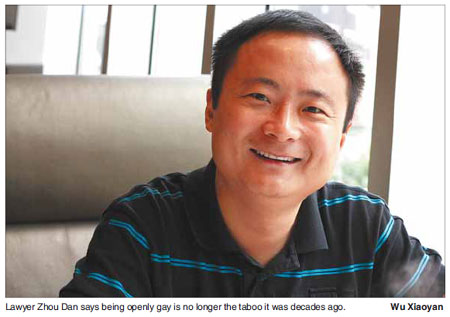 The 35-year-old Shanghai resident announced his homosexuality on Chinese websites in 2001 and says he will never need to hide his real name or identity because of his sexual orientation.
It is a far cry from the time when Cui Zi'en, China's leading gay theorist and activist, was stripped of his teaching qualification and forced into hospital after he revealed his sexual orientation in 1991.
Zhou says his experience was entirely different.
"We had a few quarrels, but my parents very soon accepted the fact," Zhou says.
"My colleagues and friends, to my surprise, did not think it was a big deal at all. Even the media gave me very positive coverage and made me a prominent role model in the gay community."
As shown by Zhou, being openly gay in China is no longer the taboo it was decades ago.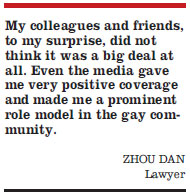 China removed the clause in the Criminal Law that led to the frequent police harrassment of gays and lesbians. In 2001, recognized it as a natural phenomenon rather than a mental problem.
In recent years, gay bars and gay and lesbian activists have sprouted in Chinese cities, while Internet access to gay groups online has also helped eased the isolation of homosexuals.
From Cui's failed attempt to hold the first gay and lesbian film festival in Beijing in 2001 to the recent coming-out party of the first gay pride festival in Shanghai, there are clear signs that the country's gay community has gone from being virtually invisible to a recognizable social force about 30 million strong.
Zhou feels both lucky and proud that he has been part of this ongoing social transformation: He helped start a hotline for sexual minorities in Shanghai in 2003 and has been teaching China's first graduate class on homosexuality and social science at Fudan University since 2004.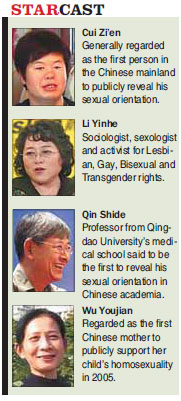 He also takes on the issue of HIV/AIDS, propagating safe sex among homosexuals and lobbying the government not to bar HIV-positive people from jobs.
Above all, he hopes to use his professional background to provide legal counsel to homosexuals and fight for their rights.
Still, he says there is a long way to go for gay rights in the country.
Although public tolerance for the community has improved significantly over the years, the road to legislation on gays' equal rights to education, employment and marriage, as well as other issues like inheritance and child adoption, continues to present challenges.
Explicitly gay literature, cinema and TV roles are also scarce and strictly controlled.
Social stigma and discrimination, meanwhile, continues to be the major obstacle.
"The government has a big role to play in changing the attitudes of people by promoting education and training in both the public and professional sectors," Zhou says.
Time Line
1902
Scholar Kang Youwei proposes same-sex marriages.
1930s
The government lists pederasty and homosexuality as an offense detrimental to public morale.
1979-1991
Gay men were often detained on charges of indecent assault even though the Criminal Law in 1979 didn't specify pederasty was a crime.
1991
The Ministry of Public Security rules that there is nothing illegal about two people of the same sex living together. Two lesbians were earlier arrested in Anhui for living together.
1997
The clause "indecent assault" was removed from the Criminal Law.
2001
Homosexuality is recognized as a natural phenomenon instead of a mental problem.
2003
Activist Li Yinhe submits a proposal on same-sex marriages to China's top advisory body.
2005
China's Parents, Families and Friends of Lesbians and Gays group was founded in Guangdong province by Wu Youjian.
2009
Inaugural gay pride festival held in Shanghai to coincide with the global gay pride movement.