Grassroots lawmaker Wu Qing solves problems few others can - by reaching to officials through their wives.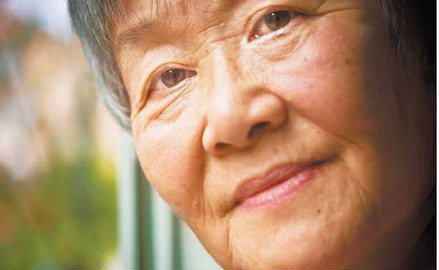 Working through groups such as NGOs, Wu Qing, a district lawmaker in Beijing, wants to teach women more "survival skills" [Jonah M. Kessel
] 
"I talked with your wife. She supports me on this issue," Wu often tells them.
Sometimes, she makes more than 40 calls to one official. In her efforts to get to the officials, she obtains the phone numbers of their homes and even the mobile numbers of their drivers.
It is all part of what the 72-year-old Wu does to work inside and outside "the system" to improve the lives of women.
Wu is a deputy to the people's congress of Beijing's Haidian district and an activist with several nongovernmental organizations (NGOs).
"My concern is to defend the rights of my voters. I care more about women because they have less protection of their rights than men do," says the retired professor of American studies at the Beijing Foreign Studies University.
"My family suffered from the Anti-Rightists Movement in 1957 to the end of the "cultural revolution" (1966-76). The two decades taught me how difficult it could be to live as an ordinary citizen, especially as a woman, in the absence of legal protection."
Wu grew up in the United States and post-war Japan. She remembered her parents discussing whether to return to China after 1949. Her father Wu Wenzao, a sociologist, did not want to give up his studies in Tokyo while her mother Xie Bingxin, an established writer, dreamed of the motherland. The family eventually settled in Beijing in 1951.
At the time, Chinese women were claiming their rights on a large scale. Chairman Mao Zedong announced that New China would "clear the house" by forbidding prostitution in 1949.
The unprecedented Marriage Law, which came into force in 1950, stipulated that women and men are equal partners in a marriage, similarly pledging monogamy and protection of women and children's rights. Brothels disappeared from major cities at the end of 1951.
In 1954, the People's Republic of China had its first Constitution, which stipulated that women have the same rights as men. In the following years, the government also issued regulations stipulating that women and men receive equal pay for an equal amount of work.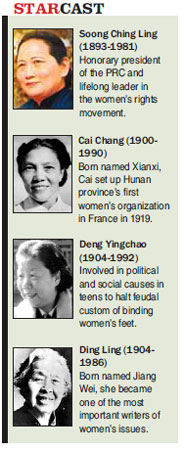 Wu carries the 1954 Constitution and the amended 1982 Constitution wherever she goes.
"When I help people, I am protecting the law I saw too much of a lawless state," she says.
Wu volunteered to represent residents of Haidian district in Beijing in 1983 and soon after becoming a deputy to the local people's congress.
She surprised everyone at her first congress meeting. When the chairman introduced an official as the son of a celebrity, she stood up to say: "You cannot merely say this about him. We deserve to know what he has achieved as a public servant."
As a local legislator, she became more aware of the problems that women began to face as a result of economic transformation. The complacency women had acquired in the first three decades of New China was replaced by worries and open discrimination they were suffering in the name of a market economy, despite the fact that more girls went in schools and more young women entered colleges.
Wu has also maximized her power as a district-level legislator. She publicizes her home and mobile phone numbers, and receives voters at her office on campus every Tuesday afternoon. There are almost always dozens of them, who arrive from every corner of the nation to discuss all kinds of problems.
"The majority of those who come to me are women, who tend to be more persistent than men do in having their problems solved. There is also the popular belief that women will be better treated when they request help from the authorities," Wu says.
Through NGOs, she wants to teach women more "survival skills". She is co-founder, fundraiser and lecturer at an 11-year-old school in Beijing, where 4,360 rural women from 26 provinces have received training before they look for urban jobs.
She was also crucial in legalizing schools for children of migrant workers in 2003.
The most exciting change that she has seen in the past 25 years is of the citizens, especially women, who come for help.
"They used to only tell me their problems. Now they know why the law should be on their side," she says.
"I believe China's future lies in such a change."
Time line
1949
Large-scale campaigns start to eradicate prostitution.
1950
The Marriage Law, the first law of the PRC, is enacted. It is the first Chinese law that specifies that women and men enjoy equal rights.
1951
Brothels disappear from major cities.
1954
The first PRC Constitution reaffirms that women and men have equal rights.
1958
All former prostitutes are absovled into State farms and other public entities. Many remarry.
1964
China announces the mainland free of all sexually transmitted diseases.
1960s-70s
More concrete regulations on gender equality are issued.
1980s-1990s
Prostitution resurfaces. Workplace discrimination of women takes on new forms as the market economy expands. Women's legal awareness of self-protection grow.
1992
The Law on the Protection of Rights and Interests of Women is enacted.
1995
Beijing hosts the United Nation's Fourth World Conference on Women.
1990s-2000s
NGOs proliferate and offer aid in gender equality on a more personal basis for ordinary women.