Rui Chenggang interviews world leaders for State broadcaster China Central Television (CCTV) but made headlines himself when he campaigned to get US-based coffee chain Starbucks evicted from the Forbidden City.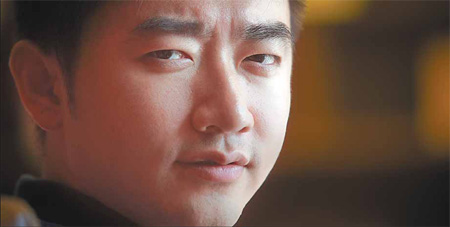 Business news anchor Rui Chenggang sees himself as a globalist who is in favor of multilateralism on the international stage and pluralism at home. [Jonah M. Kessel] 
He gained a reputation for being a nationalist in the process.
The reality, however, is more nuanced. The suave TV anchor drives the latest edition Jaguar (in British racing green) and has a Union Jack decal on the rear side window.
Though content to be called a patriot, he is against "blind nationalism" and describes himself as a "globalist".
"I get critics from both sides," Rui says. "There are Chinese people who say I have been brainwashed by the West. They think I rub shoulders with leaders around the world and have lost my roots."
Rui represents New China and he is part of a generation that grew up in the era after the reform and opening up instituted by Deng Xiaoping in 1978. His is a demographic group that has largely set aside the turbulent politics of the country's first 30 years to be rich and glorious.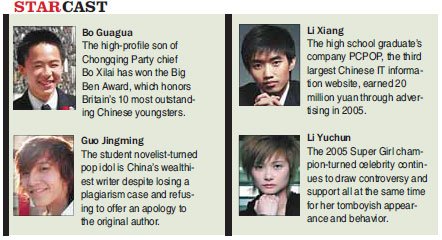 It is also a generation whose members have been characterized as "little emperors", following the introduction of the family planning policy in 1979, which most parents in cities followed and have one child.
"I almost got planned out by the family policy but managed to stay in," jokes Rui, who was born in 1977 and has an older sister.
He says the policy is beneficial because China's population needs reducing. Otherwise it will hold back the country's development and be a burden on the world in terms of carbon emissions.
Even so, he admits there are negative effects. Not least among these is a distorted housing market as parents save up and buy their 20-something children new apartments.
"I would never buy my child a home. They should buy it themselves," the unmarried Rui says. "I think we have a whole generation who are spoiled, not at school or in society, but within the family."
This makes them less tolerant and explains the higher divorce rate, Rui says, adding that he agrees with the description of them as the "Me Generation" - one that is overly interested in fame, power and money.
"This generation is very different from its parents. It's a lot more entrepreneurial but this is not necessarily a good thing. Everyone wants to be an overnight millionaire but this skews society. We also need teachers and construction workers."
It is hard to imagine the immaculately presented Rui on a building site. The Foreign Affairs University student wanted to be a diplomat, but after meeting former UN secretary-general Boutros Boutros-Ghali was convinced of the power of the media. So he joined CCTV.
Adept at dropping names, he says he lunches with former US secretary of state Henry Kissinger three times a year and credits him with the development of his globalized outlook.
"I asked him how much time the United States had left (as the pre-eminent power) and without thinking he said, 'I give it a hundred years'. Then he paused and said, 'I take that back, actually it's a new world order and interdependence is what we are talking about'."
As a globalist, Rui says the UN is an "old tool", while the G20 will become more powerful and relevant. New paradigms are needed to solve problems like climate change and deal with global financial crises, he says.
In favor of multilateralism on the international stage, Rui is also for pluralism at home.
"China over the last 30 years is living proof of pluralism and how societies are better off with more choices."
He recently published a book, Life Begins at 30, which touches on this subject. Like himself, he thinks of New China as a relative youngster on the world stage.
While advocating globalization, he says it would be a dull world if the only hotels were Hyatts and the only place to eat was McDonald's. Thinking locally and promoting national characteristics, he says, is essential.
"Being global doesn't mean looking alike or thinking alike," Rui says. "The more national you are, the more international you are."