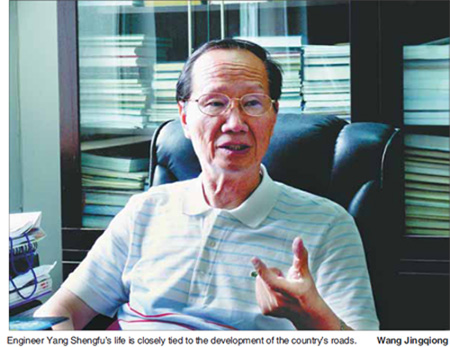 Yang Shengfu's philosophy of life is simple: Do your best on the road you have chosen.
His maxim becomes obvious once he recalls his lifelong journey as an engineer who later helmed the roads department of the Ministry of Transportation.
"Roads that's what it has all been about," says the 73-year-old retiree.
"All my personal experiences have been tied closely with the development of roads in the country.
"Young people today cannot imagine what public roads were like in the 1950s and 1960s, when most people were living in the countryside and almost have traveled long distances at all," he says.
From 1949 to 1957, about 25,000 km of roads were added to the original 75,000 km, with the Chuan Zhang public road from Sichuan province to Tibet being one of the most famous.
"During that period, road construction was done for the emancipation of the people, as it opened up those areas," Yang says.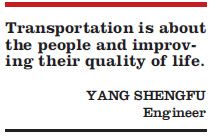 "Building roads had little to do with the economy per se."
The roads then were also not the tarred ones or highways that people saw today but were mostly walking paths made up of mud and soil.
Changes became more apparent after 1978, when the economy began to develop and transportation became necessary for business.
For instance, with the development of industry, large cities' increased need for coal from areas like Shanxi province translated into demand for better transportation.
In the countryside, farmers also began to realize they could sell their products to other areas to make money instead of letting them rot.
"Yet most villages, especially those in the mountains, didn't have roads at all," Yang says.
While the need for new and improved roads became obvious, Yang says many people were still not aware of the complications and technology involved in building them.
"We had been following the model of the Soviet Union till the early 1980s, and most people thought railway construction should be the only priority of transportation," Yang says.
"Some of them, when we proposed that China should have highways, even argued that highways were 'capitalistic' they even thought China wouldn't have as many cars even after 100 years."
The real change came after people realized the benefits that fast transportation, especially those from highways, brought to their lives.
Another milestone was the construction of the JingJinTang highway, of Beijing to Tianjin and Tianjin to Tanggu in 1987. It was completed in 1993.
It was the first road in China the World Bank offered loans for and the first to practise a bidding system.
"Some people couldn't believe that they only needed two hours to go to Beijing from Tianjin, a trip that used to take them five hours or even a whole day when roads were in bad condition."
Since then, more importance had been attached to public road construction and until 1998, when the Asian economic crisis broke out, many more road projects were planned to alleviate the influence of the crisis on China.
By the end of 2008, China had more than 60,000 km of highway, second in length only to the Untied States.
"Nobody, even 20 years ago, expected there would so many cars in China now," Yang says.
The problem now is accommodating the number of vehicles on the roads, he says.
"Just take Beijing as an example. Using advanced technology to improve the efficient use of roads and alleviate congestion in cities is now a major consideration."
"The other problem is improving the quality of roads in the countryside. The people there should enjoy the same roads as people in big cities," Yang says.
"Transportation is about the people and improving their quality of life."
Time line
1949
Only 80,700 km of road had opened to traffic. All roads are under the level-2 standard, with about only 30,000 km of them surfaced.
1950-1954
Construction and completion of the Sichuan-Tibet Road. Similar construction of roads begins nationwide.
1957
Roadways in China triple to 254,00 km. 121,000 km of which is surfaced.
1965
Roads reach 514,000 km, with 305,000 km surfaced.
1978
Roads open to traffic hit 890,000 km after decades of infrastructure construction. But there are No level-1 roads or highways are in place.
1980s
The need for more advanced roads, and more roads in general, becomes urgent as market reforms speed up.
1987
The completion of JingJinTang highway (from Beijing to Tianjin and Tianjin to Tangu), the first highway in China that uses loans from World Bank is completed. A new management system and bidding system for road construction is introduced.
1996-2005
More than 38,000 km of highway constructed, with an average building speed of almost 10,000 km every year since 2002.
2008
Density of roads hits 9.1 km per 100 sq km, about four times more than in the early 1980s.