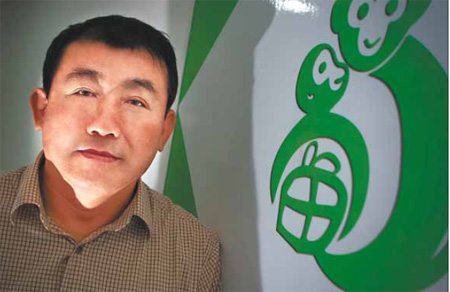 Chen Ping, who runs logistics fi rm Stars Express, says the sector is still fragmented. [China Daily]
It is a 42.9-trillion-yuan industry where about 100,000 companies battle with major multinationals like DHL, TNT and FedEx, making it one of the world's most competitive.
But industry player Chen Ping says China's modern logistics sector, which involves the efficient management of resources, was not even a concept in the years following the founding of New China in 1949.
"You had a situation where it was mostly different government departments responsible for sea, aviation and road transport. Within each of these transport areas there was one or two State-owned enterprises that ran things," says the 50-year-old, who heads Stars Express.
His Beijing company, which employs 6,000 and services Internet shopping operators, was launched this March and is seen as one of the leading private-sector operators in the market.
He started his first express delivery company, ZJS Express, in 1994, which by the time he left last year had sales of 1.3 billion yuan and a 21,000 workforce.
Chen's career reflects the exponential growth of China's logistics industry in recent decades.
"The competition in the logistics industry is more intensive than other industries because there are such a large number of players in the market," he says.
It was not always like this.
Foreign firms, most notably German giant DHL, which started a joint venture with Chinese State-owned shipping company Sinotrans in 1986, only started to enter the market after reform and opening up in the late-1970s.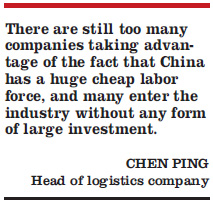 It was the early-1990s before private sector logistics firms began appearing on any significant scale.
Chen says that even then it took a long time before China had a recognizably modern logistics industry.
"What you really had was specific government departments responsible for specific functions, such as warehousing or transport. It was not a chain," he says.
"Modern logistics is about integrating distribution, transport, insurance, after-sales service and even helping firms place orders."
Chen says a key turning point was in 1999, when the Chinese government designated logistics as a new industry. By 2003, 180 universities across China were offering courses in logistics.
"This designation has established a base for the development of the industry in China and the fact that the subject is studied at universities will ensure that much-needed, more qualified people will enter the industry," he says.
Throughout the past decade foreign companies have exerted more control over the industry.
US logistics multinational FedEx bought Chinese shipping packager Tianjin Datian W. Group for $400 million in 2006 and there have been other high-profile acquisitions.
The industry is still heavily fragmented with 98 percent of the market dominated by very small firms. This fragmentation comes at a heavy price to the economy with logistics costing the China 20 percent of GDP, compared to 6 to 8 percent in the West.
"The high cost of logistics impacts the profitability of other companies in China," Chen says.
"Companies cannot alter what they pay for raw materials or their labor because these costs are relatively fixed. But if they bring down the cost of what they pay for logistics, they have scope for lowering their cost base."
Chen says there are still too many firms that fail to automate, have poorly trained workforces and use old vehicle fleets that undermine more professional firms by undercutting them on price.
"The industry still needs to become more professional. There are still too many companies taking advantage of the fact that China has a huge cheap labor force, and many enter the industry without any form of large investment," he says.
Chen welcomes this year's initiative by the government to signal logistics as one of China's 10 key industries in the wake of the economic crisis.
This will result in logistics firms receiving favorable tax breaks and other help like acquiring land on advantageous terms.
"There also needs to be more acquisitions and more consolidation," Chen says.
"The industry has made progress but there is further to go."
Time line
1949-1978
Government departments are responsible for logistics.
1980s
DHL signs joint venture with Chinese shipper Sinotrans as foreign companies enter the market for the first time.
1990s
Chinese private- sector companies emerge in numbers.
1999
Government designates logistics as a new industry.
2006
FedEx acquires Tianjin Datian W. Group for $400 m as foreign companies set out on the acquisitions trail.
2009
China recognizes logistics as one of 10 key industries.