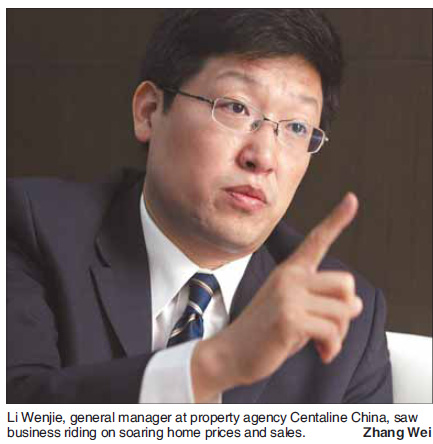 In 2005, Zhao Jiayan, a 29-year-old sales manager in Beijing, had squirreled away 100,000 yuan ($14,600) for the down payment of a two-bedroom apartment in an up-and-coming area west of the capital.
But he held back on his planned purchase, to see if the claimed housing bubble then would burst. He waited until housing prices almost doubled. He waited, until the deposit he saved could fetch him only a bathroom in the community he was eyeing.
"Beijing's property prices have surged at an astonishing speed, far more than my pay," Zhao says.
The Beijinger is one of those "who fell for many economists' assertion that the housing bubble would burst and kept on watching the market hoping that prices would fall", says Li Wenjie, the general manager of property agency Centaline China (North China region).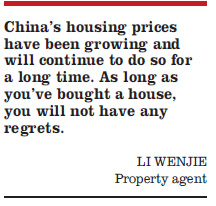 Li, 39, is one of many veteran property agents and developers who believe that housing prices in China, such as those in first-tier cities like Beijing, Shanghai and Shenzhen, will continue to grow for a long time as a result of continued urbanization.
Li himself is considered a witness of the evolution of the country's commercial real estate market, being in the business long before apartments were considered tradable commodity in China.
In 1994, when he joined Centaline, he could only sell commercial apartments to non-Chinese.
When New China emerged from wars, it was a poverty-stricken country, with 70 percent of city residents sharing a room with three to five other family members.
In nearly three decades after 1949, the drives for industrialization and political campaigns took precendence over matters of individual comforts, such as housing.
In the early 1980s, urban housing remained scarce, with residents sharing 8 sq m of floor space per capita. The country began to speed up construction of urban housing.
But until the mid-1990s, housing was welfare that government agencies and State-owned enterprises provided for their employees, almost free of charge and based on tenure. Many newly-weds had to live in dormitories and share a kitchen and restrooms with other young couples.
For decades, very few expected to own their own apartments.
Housing reforms started in 1998, which is a milestone in the history of China's property development, Li says.
"Before that, China did not have commercial housing," he says.
Welfare housing gradually phased out and people started to dream of owning their own apartment flats and even houses.
Real estate development prospered. Entering the 21st century, new housing constructed in one year surpasses the total of new houses built between 1949 and 1979 in terms of floor space.
Li's business roared after 1998 along with China's soaring home prices and sales volumes, along with a boom of get-rich-quick stories.
These include young couples who bought two-bedroom condos in the Beijing suburbs before 2004 and sold these in the past two years for a 1 million yuan profit each, promptly moving into 300-sq-m dream homes downtown. Some have become billionaires in recent years.
He has heard more complaints from first-time home-buyers, who have increasingly been squeezed by the escalation of home prices. Few members of this unlucky group have been able to put down the standard 20 percent as a down payment on their first homes.
Still, Li says all these people stop complaining as soon as they buy their houses.
Per capita share of urban housing in China reached 28 sq m last year.
"China's housing prices have been growing and will continue to do so for a long time. As long as you've bought a house, you will not have any regrets," he says.
Li also believes that standard economic theories, including those that portend the bursting of a housing bubble, may not be applicable to China's property market.
"A recent report showed that China's urbanization rate has reached 45 percent and is projected to reach 70 percent," he says.
"Take Beijing as an example, it plans to house another 4 million people or 1 million families. These new residents will fuel the price increase for a relatively long time," Li says.
He says there are basically two reasons behind the continued rise in demand for properties in China: First, buying an apartment before marriage is crucial and almost compulsory for most middle-class people. Second, the lack of high-return, low-risk investment options in the country.
"If investors take up 20 percent of China's real estate market, demand will be strong," Li says.
While the authorities also considering introducing property tax to reduce the number of idle properties and rein in the soaring home prices, Li says those would take time.
"The government is more committed to providing medium- or lower-income people with more affordable apartments, as well as low-rental housing to those with the lowest income," he says.
"As such, 40 percent of the population will be covered by public housing."
Time Line
1949
Authorities across China begin to build workers' dormitories to deal with challenging living conditions.
Meanwhile, real estate as a business disappears.
1962
The public housing distribution system is officially set up.
1980
Deng Xiaoping proposes commercialization of housing
1983
National Bureau of Statistics includes figures of housing construction for the first time in its annual report. Real estate as a business is officially recognized.
1998
Authorities abandon welfare housing system and initiate commercialization of the sector.
2002
All land for business purposes after July 1 to be transferred publicly, through auction or public bidding.
2006
Overseas speculation sends China's property prices soaring. Government takes fiscal and taxation measures to rein in home prices.
2007
New Property Law takes effect on Oct 1, providing equal guarantee to private property and public assets.