Zhong Shi is one of an army of private motorists who began to take to the roads in the late-1990s.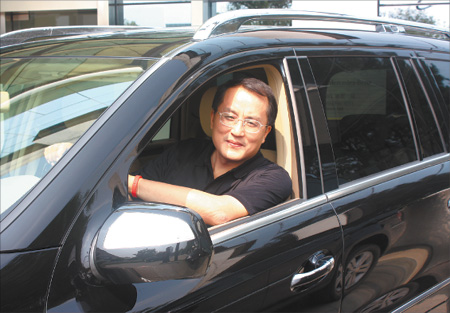 Pioneer Chinese motorist Zhong Shi has seen the auto industry blossom since his first car, a Xiali, in 1997. Courtesy of Zhong Shi [China Daily] 
Car ownership until then was the preserve of the more affluent, but over the last decade there has been an explosion in those owning their own vehicles.
In Beijing alone, it is estimated that half of the 3.8 million vehicles on the road are owned by private motorists - compared to just 1 million vehicles a decade ago.
Zhong, then 37, paid 75,000 yuan in 1997 for his first car, a Xiali, made by the Tianjin First Automobile Works (FAW) Xiali Automobile Co.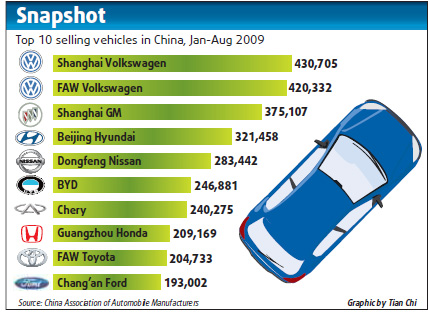 "It was a time when few people had cars. Most people who did were either entrepreneurs or people with money," he says.
Although a large expense, Zhong, who had passed his driving test in his second attempt, had built up enough savings to afford his own vehicle.
"I bought one because of the convenience. My wife and I had had a son two years before and we needed a vehicle to take him to school and trips to grandparents. It was really a practical move," he says.
Zhong says it was a relative luxury driving in Beijing at the time, since the city only had four ring roads, compared to today's six, and there were many fewer vehicles on the road.
"There were certainly fewer jams. The car itself wasn't very sophisticated. It had air conditioning and a radio but only a 1-liter engine. It was basically a tool to get around," he says.
Car manufacturing in China began in the 1950s when the FAW began production.
Much of China's early automobile manufacturing was devoted to truckmaking.
It was in the 1980s when there were a number of major joint ventures with major international carmakers such FAW's tieup with Volkswagen.
It was a 1.6-liter FAW VW Bora that was Zhong's second car, for which he paid 162,000 yuan in 2003.
Zhong, who was then a sales manager for South Korean firm Daewoo, is now a self-employed automotive analyst. He says his was a great car for his wife Feng Kejia, now 47, and his daughter Xin, 14.
"It is much better for going on longer journeys. As a family, if we go anywhere less than 400km we tend to use the car, rather than fly, and it is good for touring," he says.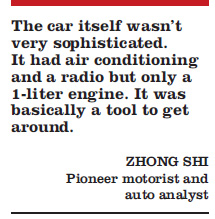 The car remains his main family car but in his professional capacity, he gets to drive top-range cars such as BMWs and Mercedes-Benz in the United States and Europe.
"These type of cars remain prohibitively expensive in China. They are much more expensive relative to what they cost in Europe or America," he says.
China now has its homegrown manufacturers such as Chery, Geely and BYD Auto, the hybrid carmaker.
In 2008, 9.3 million cars were made in China, second only to Japan.
China's car market is now also the largest in the world and international consultancy McKinsey & Co forecasts it will grow tenfold by 2030.
Because of the congestion, Zhong actually finds driving in big cities increasingly a chore.
"When I go to Shanghai, a friend offers me his car but I prefer to take the bus. The traffic there is bad."
He says motorists tend to be very inconsiderate of each other and he had one shunt three years ago, apart from numerous other incidents.
"I think learning to drive in a more civilized manner should be part of the driving test," he says.
He says the Beijing municipality's decision to impose road restrictions based on plates has had some effect on easing congestion.
"The main problem with the policy for the motorist is that it makes it quite expensive, since when you can't use your car, you have to take a taxi."
Additional reporting by Chen Limin
Time line
1956
First Automobile Works (FAW) builds China's first modern automobile factory.
1960s
China focuses on truck production.
1980s
Chinese companies form joint ventures with international manufacturers such as FAW with Volkswagen and Dongfeng Motor Corporation with Citroen.
1990s
Emergence of domestic car brands include Geely, Chery and BYD Auto.
2000s
China becomes the world's second biggest car manufacturing center after Japan, and the top global market for cars.