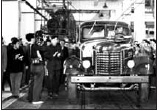 -- The Changchun Automobile Plant, the first Chinese car manufacturer, starts operation on July 13, with the first heavy-duty truck rolling off the assembly line.

-- In June, Chen Jingkai breaks the weightlifting world record in the men's 56 kg category. Chen set the first sports world record in China's history.

-- Public-private partnerships are formed nationwide.