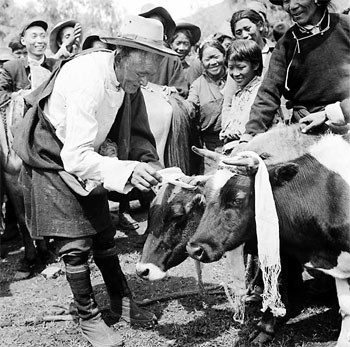 A serf-turned-herder ties hada to the two cows he has been assigned in Nedong county, about 190 km east of Lhasa, Tibet on Aug 5, 1959. As part of the Democratic Reform that freed all serfs, the local agricultural association distributed 226 livestock from former landlords to 37 peasant families. Xinhua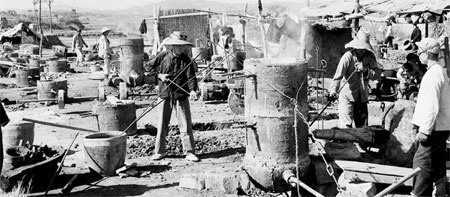 Workers at Wuxi Hongqi Iron and Steel Plant in Jiangsu province during the campaign of iron and steel production in 1959.
Xiao Zhuang
-- China defeats a rebellion staged by Tibetan separatists in March. Serfdom is abolished in Tibet.

-- Natural disasters begin to hit China and continue for three years.

-- The Daqing Oil Field is discovered in Heilongjiang province.

-- Mao Zedong steps down as State chairman. Liu Shaoqi succeeds him in the post.

-- Rong Guotuan wins the men's singles title during the 25th World Table Tennis Championship. He is the first Chinese to win the event.