Milestones
Milestones: 1997
(China Daily)
Updated: 2009-09-29 16:27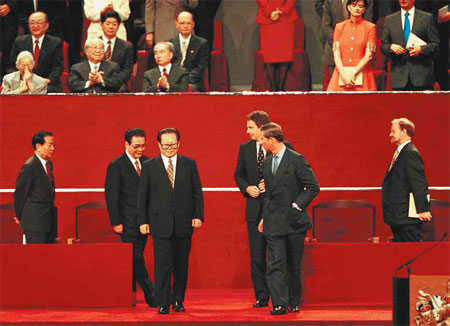 Chinese President Jiang Zemin (third from left) and Prince Charles of the United Kingdom (second from right) at the handover ceremony of Hong Kong on July 1, 1997. Xinhua
On Feb 19, Deng Xiaoping, the chief architect of China's economic reform and socialist modernization, dies at 93.

The 15th National Congress of the CPC in September announces plans to reform, sell, merge or eliminate a vast number of SOEs.

Under the policy of "one country, two systems", China resumes sovereignty over Hong Kong on July 1, ending more than 150 years of British control.