Milestones
Milestones: 1999
(China Daily)
Updated: 2009-09-29 16:27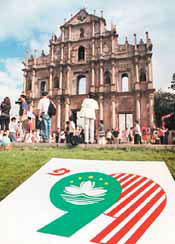 People wander around the ruins of St. Paul Church in Macao on Dec 20, 1999 as China reassumes sovereighty over the region.
Chan Kuong Chong
On March 22, the State Council stipulates 10 measures for the further development of western China, covering six provinces (Gansu, Guizhou, Qinghai, Shaanxi, Sichuan and Yunnan), five autonomous regions (Guangxi, Inner Mongolia, Ningxia, Tibet and Xinjiang) and one municipality (Chongqing).

On May 8, US-led NATO attacks the Chinese embassy in the Federal Republic of Yugoslavia with missiles, causing injuries and three deaths. Chinese protest nationwide.

On Dec 20, China resumes sovereignty over Macao, ending 442 years of Portuguese rule.