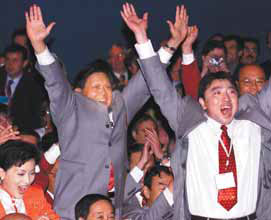 Liu Qi (center), mayor of Beijing, is elated as Beijing wins the right to host the 2008 Olympic Games in Moscow on July 13, 2001. Zhao Yingxin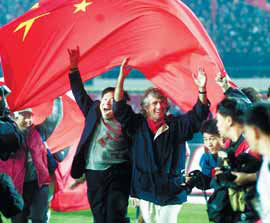 Chinese men's soccer team coach Bora Milutinovic (center) celebrates as China books a first-ever place in the FIFA World Cup finals by beating Oman 1-0 in Shenyang, Liaoning province on Oct 7, 2001. Wu Zhiyi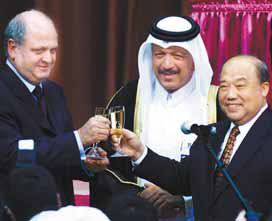 Shi Guangsheng (right), Minister of Foreign Trade and Economic Cooperation, raises a toast as China joins the WTO on Nov 11, 2001. Xinhua
-- On Nov 10, the Fourth Ministerial Conference of the World Trade Organization in Doha, Qatar, approves China's entry into the WTO following 15 years of negotiation.

-- On April 1, a Chinese and a US plane collide over the southern Chinese Island of Hainan.

-- Beijing wins the right to host the 2008 Olympics and Paralympics at the 112nd Session of the International Olympic Commitee in Moscow on July 13.

-- China's men's soccer team books a first-ever place for the FIFA World Cup finals by beating Oman 1-0 in Shenyang, Liaoning province, on Oct 7.