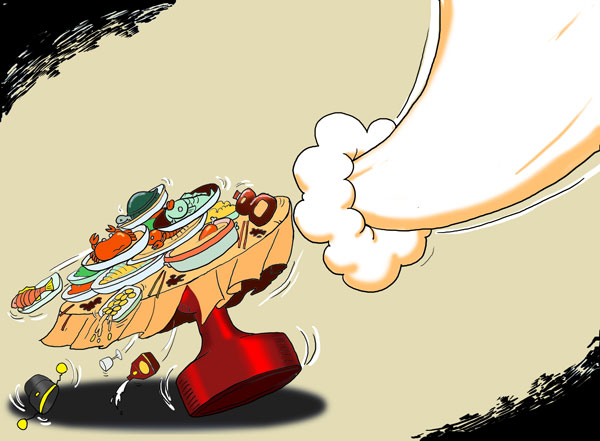 Zhang Shixian/For China Daily


Lawmakers seek frugal meetings, report Zhou Wenting in Shanghai, Qi Xin in Zhengzhou, Zhao Kai in Guiyang and Cao Yin in Beijing.
As Li Xinxin, a member of the Shanghai Municipal Committee of the Chinese People's Political Consultative Conference, waited for a shuttle bus on Saturday morning, he looked on his tablet computer to check the timetable for vehicles that pick up delegates.
"It's the first time the organizers have sent out electronic versions of the meeting agenda, schedules and other reference materials instead of printouts. This will help to make the sessions greener," said Li, a member of Shanghai's top political advisory body for seven years.
This was the second year organizers arranged for shuttle buses to carry the 1,600-some deputies and members along the venues for the second plenary session of the municipality's 12th CPPCC and the second session of the 14th Shanghai People's Congress, the local legislative body.
Widely known as the "two sessions", the meetings are the most important annual event on China's political calendar at the local and central levels.
Organizers across the country have cracked down on extravagance this year. The move didn't come as a surprise, though, because the central leadership has been engaged in fighting undesirable work practices, such as overt formality, bureaucracy, lavish entertainment and extravagance, since it took office late in 2012.
In line with the rules, the budget for the session of the Shanghai People's Congress was 20 percent lower than last year, and the number of staff in attendance was reduced by half, said Yao Haitong, secretary-general of Shanghai People's Congress Standing Committee.
"It's the first time we haven't given books as gifts to deputies and other members during the Shanghai sessions. We have also discouraged participants from giving each other souvenirs during the meetings," he said.
The decorations for the meetings have been simplified too, in accordance with the principle of displaying a solemn and unfussy approach to the work at hand, he noted.
With the exception of a few green plants placed on the rostrum at the opening ceremonies, no plants or flowers were visible. There were no red carpets to welcome the participants and no expensively produced information boards were erected during group discussions.