Traffic to be restricted, new routes mapped out
By Li Fangchao (China Daily)
Updated: 2007-08-08 07:20
The number of vehicles allowed on Beijing's roads is to be limited during next year's Olympics, and special routes have already been mapped out to ease traffic flow, the Beijing Organizing Committee for the 2008 Olympic Games (BOCOG) said yesterday.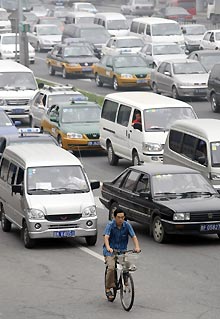 Vehicles are caught in heavy traffic during rush hour in Beijing, August 7, 2007. [Reuters]
Yu Chunquan, deputy chief of the BOCOG traffic administration bureau, said in an interview on beijing2008.cn - the Games' official website - that the routes will cover more than 200 km.
They will encompass parts of the second, fourth and fifth ring roads, as well as selected other trunk routes, he said.
To ensure steady traffic flow, the new routes will occupy only sections of these roads, in most cases the inner lane, Yu said. Additional traffic restrictions might apply in and around sports venues, he said.
While admitting the plan will have an impact on regular traffic during the Olympics, which open a year from today, Yu said more public transportation would be provided.
He said the authorities were considering increasing the number of buses, opening new routes and extending the operating times of both buses and the subway.
Yu said the details of how the restrictions will be applied were yet to be decided, but could involve selecting vehicles by their number plates or restricting car parking.
"It is international practice to impose traffic restrictions during the Games and both options are being considered," he said.
Wang Wei, an executive vice-president of the BOCOG, said even if the city planned to limit the use of private cars, it should be with the "will" of the people.
Beijing has a population of about 15 million and is home to more than 3 million cars.