Shore thing in Beijing
By Matt Hodges (China Daily)
Updated: 2007-08-03 09:43
Fans of skateboarding legend Tony Hawk and Baywatch may only have to wait till the summer of 2009 for half pipes and a man-made beach in the heart of Beijing -- which despite recent thunderstorms is notoriously dry and curiously bereft of tropical oases.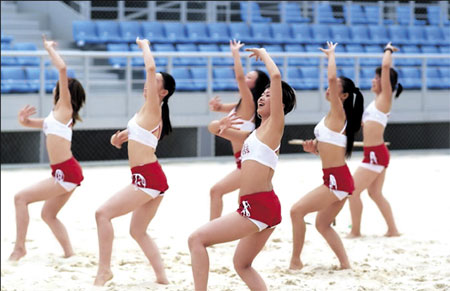 In a city where the blink-and-you'll-miss-it pace of development creates a virtual sea of change, Chaoyang Park's plan to capitalize on hosting the Beijing Olympics' beach volleyball competition by building a beachside area cum sports Mecca seems quite within the realm of possibility.
Especially in a time and place where anything seems possible, from scorpions on sticks to Stalinism-defying architectural landmarks, including the "Z-shaped" new headquarters of the national broadcaster CCTV.
"We are going to try to build a sports park with beach volleyball at the core," Tian Jinxian, general manager of Chaoyang Park Development and Management Corp, told China Daily last week.
"We are thinking about cooperating with (Chinese sportswear company) Li Ning to develop a branded sports park here incorporating all these separate facilities, including new ones for extreme sports like skateboarding and BMX," he said.
Li Ning is named after its founder, a former gymnast who became a sporting legend in China after he grabbed three gold medals at the 1984 Los Angeles Games.
"We won't remove the sand from the area because we plan to build a swimming pool right next to the beach volleyball venue. The sand will be used to make a beach."
Over 1,700 tons of world-class sand was imported from Hainan Province for the Games at a cost of 800 yuan ($105) per ton.
Chaoyang Park, or Sun Park, is the largest in the capital, covering 3.2 million sq m outside the third ring road in the east of the city. Since it opened in 1984 it has sprouted a wealth of amusement rides like the Suicide Fighter, as well as ladybird-shaped toilets, five lakes and a white restaurant that faintly resembles the White House.
Over the past 10 years, the government has poured more than 600 million yuan ($72.5 million) into improving the park, mostly in the form of roads, entertainment facilities and neighboring restaurants and bars like the expat-friendly Goose and Duck, causing some journalists to predict it will one day eclipse the bar cluster in Sanlitun as Beijing's top foreign nightspot.
But the park's owners want it to be equally compelling as a place for more salubrious daytime pleasures. Plans are afoot to build a 1,100m indoor running track and a 4,000 sq m family swimming pool (the size of three regular pools) next to the newly finished stadium, training courts and a flashy new media center.
Local residents could by the summer of 2009 be sunbathing in bikinis -- which the park owners say they will not forbid -- and enjoying an oasis of calm on world-class sand as trees and skyscrapers pepper the skyline.
Last week, diggers and migrant workers were scrambling over an exposed crater of earth next to the wavy wall that will form the edge of the already-begun pool. What looked like a new lake under construction was in fact a pre-existing one that had been drained for cleaning, said Tian, adding that this is done regularly.
BOCOG's on-site venue deputy manager Gao Feng described the beach plan as "just a blueprint," adding that park officials would take control of the venue and land after the Games finishes next summer, when they will have free rein to do as they please.
Tian said more development was firmly on the agenda. The park, which welcomes an average of 4 million visitors a year, got a new tennis complex and a five-a-side soccer pitch last year. It already had numerous basketball courts, roller coasters and a rather industrial-looking Rocket Bunjee.
Other items have mysteriously disappeared, much like sports on the Olympic roster. Popular hot-air balloon rides melted into the ether a couple of years ago and plans to build a world-class 18-hole golf course have been scrapped.
But when it comes to exotic sights and unexplained weirdness, from elderly people practicing Tai Chi in the park to one signpost pointing to "the source of the life," Chaoyang Park is no different from the rest of the city.
While some of the English signs still make little or no sense - pedalos and wooden boats at one of the lakes can be rented for "no morgage" (sic) - others have been "copy-edited" and trashcans added to tidy up the park's image ahead of next year's long-awaited showcase.