Not content with gold medals and millions of dollars in endorsements, Liu Xiang says he is ready to smash the 110m hurdles world record for a second time.
"I think I have the chance to break the world record again this year and I am sure I can run faster," Liu was quoted as saying on Sina.com. "Breaking the record requires a lot of factors and also luck, so I cannot tell how I will perform. But I think this year is probably the right time.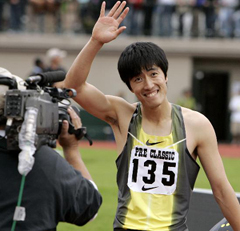 "I know a lot of people have very high expectations of me, but I won't set a target for myself before any tournament. I am not a high jumper, there is no clear standard for me. All I want to do is to win the race."
Liu broke the world record with a time of 12.88 seconds in Lausanne, Switzerland in July last year and prior to that he had equaled the record of 12.91 when he won the Olympic title in Athens in 2004.
The 2007 season has started promisingly, with the 24-year-old winning five out of six international tournaments.
A 12.92 victory in New York earlier this month, the fastest anyone has run this season, made him the only one on the planet to go sub-12.94 four times.
"The recent victories have made me more confident about winning at the worlds," said Liu. "Osaka has been a lucky city for me because I have never lost a competition there."
Liu's coach Sun Haiping is also confident that his man can do the business at the World Championships in Osaka in September.
"He is able to win there," Sun was quoted as saying on Sina.com. "Sometimes I joke that I wish the Beijing Olympics would take place this year, as I am sure Liu would win the gold medal.
"He is in incredible form and his desire to compete is really, really high. His times have always stayed around 13 seconds.
"Now with the world's best all coming together, it is a good chance for Liu to compete with them and better know their form ahead of the Beijing Games.
"The rankings show that Liu is very strong. We want to keep the top position as long as possible."
The Osaka tournament also gives Liu the opportunity to fill the one hole in his CV: the lack of a gold medal at the world championships.
"Gold is my sole target at the worlds in Osaka," said Liu after returning to Beijing after two weeks training and competing in the United States.
"I think the time is ripe for me now. I've had some great performances over the past two months and I've trained really hard and stayed away from injuries, so I am confident I will taste gold in Osaka this time."
He will face stiff competition in Osaka from American Dominique Arnold and Doucoure.
Legs Insurance
Following nightmare injuries suffered by gymnast Wang Yan and star spiker Tang Miao, Sun is planning to buy Liu an insurance policy - for his legs.
Wang and Tang both broke their necks last week and may remain paralyzed for life.
"Liu has life insurance from the national team but I hope there is a kind of insurance that is specifically for his legs," said Sun. "There isn't this kind of insurance in China, but given his legs bring not only world records and gold medals but also guarantee a big market behind him, I will talk with officials about it."
Liu is arguably the most popular athlete in China and his endorsement fees have rocketed over the past two years to make him the second richest Chinese athlete behind Houston Rockets center Yao Ming.
He recently signed a deal with Amway reportedly worth 10 million yuan (US$1.25 million). His earnings have increased 30 fold since 2004.
Liu has a total of seven sponsorships this year for products ranging from sports equipment to credit cards.
According to his coach Sun, the sponsorships are divided into different levels with a top contract costing over 10 million yuan (US$1.25 million) and the second level five million yuan (US$625,000).
But Liu says the deals are more about the fun than the money.
"I don't put pressure on it," he said. "Staying on the track the whole day makes me dull, I need to relax off it, for example by making some ads or public appearances. I think this is also a good way to communicate with my fans and give something back to society."
Local media estimate that the young Olympian could be earning more than 20 million yuan (US$2.5 million) per year.
Liu will leave for Paris later this month for the Golden League event that takes place on July 6.