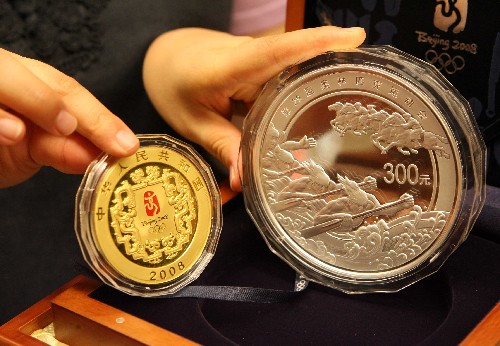 China's central bank unveiled on Wednesday a second set of gold and silver coins to commemorate the 2008 Beijing Olympics.
The second set consists of eight commemorative coins, two made with a third ounce of gold, one with five ounces of gold, four with an ounce of silver, and one with a full kilogram of silver.
The brass-alloy coins, which are legal tender and can be used as normal currency, were put on the market by the China Gold Coin Incorporation the same day.
All the coins carry the logo of the Beijing Olympics on one side. Images on the other sides vary from Olympic mascots, dragons, the Great Wall to the Summer Palace, as well as martial arts scenes and dragon boat racing.
China released the first set of Beijing Olympics gold and silver commemorative coins in September 2006, and a third set will be issued in 2008.
Finland began the practice of Olympic Game hosts issuing commemorative coins back in 1952