Beijing has launched a clear-up on over-the-top advertising, claiming that the ads offend socialist values and threaten "social harmony" in the 2008 Olympic host city.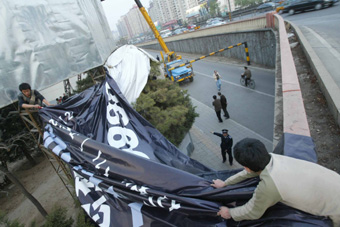 Beijing city management staff clear up the illegal outdoor advertising located at north Beijing nearby the prospective Olympic Avenue.[Xinhua]

Beijing may be capital of a socialist state, but the city's aggressive real estate developers have been reaching for Donald Trump-like capitalist superlatives to sell housing.

"Luxurious," "ultra-distinguished," "supreme pleasure" and other terms crowd billboards that promise buyers the life of moguls or aristocrats.

"Be a foreigner's landlord!" crowed one advertisement -- in Chinese only -- for buyers to invest in a new apartment block in a Beijing development.

Beijing's mayor, Wang Qishan, recently complained about the rhetorical excess, and on Friday the city's commercial agency said it had seen enough.

"At present, there is a problem with certain advertising not conforming to the demands of socialist spiritual civilization," the Beijing Administration for Industry and Commerce announced on its Web site (www.hd315.gov.cn).

"Nor do they conform to the simple traditional virtues venerated by the Chinese nation, and they are unhelpful for social harmony."

Monitoring of radio and television promotions would be strengthened, and officials would patrol to check on outdoor ads, the announcement said. Ads must "promote healthy social mores and raise the moral standards of citizens," it demanded.

Already many billboards along the city's clogged expressways have been taken down, apparently to make way for more politically acceptable ways of selling luxury housing.