Beijing has corrected over 6,500 traffic signs and will next target other public facilities including toilets, museums, hospitals, sports venues and restaurant menus in an endeavor to weed out bad English translations in public before the 2008 Olympics.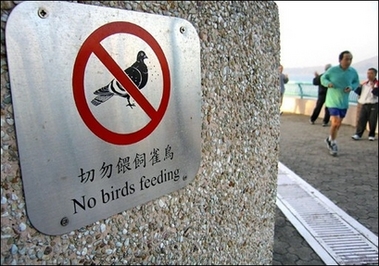 A man jogs past a sign asking people to stop feeding the birds in Hong Kong. Beijing has corrected over 6,500 traffic signs and will next target public toilets, museums and menus as it erases bad English translations before the 2008 Olympics, a city official has said. [AFP\File]
"So far I think we have achieved great progress in putting English translations of signs right," Liu Yang, a municipal official in charge of foreign affairs and foreign language populization, told at a regular press conference given by Beijing Organizing Committee for the Games of the XXIX Olympiad (BOCOG) on Wednesday.
Among the next moves will be many howlers seen on restaurant menus, such as "cow bowel in sauce", "corrugated iron beef" and "acid food".
"In standardizing the menus, we will take both China's splendid catering culture and practicability into consideration. The names of the dishes should be simple but clear," Liu said, adding the names are supposed to signal what food the customers are going to eat.
However, it is really a hard work to combine the culture and practicability. Many Chinese-style dishes have legend stories behind them while others can't be distinguished as what they are made from merely through their names.
Other ambiguous names like Seven Happiness, a mix of seafood, meats and vegetables sound quite confused to foreigners. But the idea to translate it more informatively provoked a backlash in the blogosphere when first floated earlier this year.
"The menu standardization is still under discussion and we will pick the brains of experts both home and abroad," Liu said.

(Click for discussion over how to say Chinese dishes in English - simply and clearly)

Embracing the first Olympic Games at home, Beijing is setting about to mobilize the mass to correct weird and misunderstanding translations in public to create an easy communicating atmosphere for foreign guests during the Olympics.
Launched last year, the campaign resulted in 6,530 transport-related signs in Beijing being revised or replaced by the end of 2006. More than 1,000 others were dealt with at tourist spots around the city.
"We had relied on the people to find out incorrect translations and accomplished a lot," said Liu. "We will initiate an even more massive public campaign to mop out bad translations from the latter half of this year, in that way those at grass-root places will be found."
To stage a world-class Olympic Games, Beijing can't afford to saddle an Olympic-sized embarrassment over menu items such as "fried crap" and attractions like the "Racist Park" - a venue dedicated to ethnic minorities.
The flaming-red neon sign of the Dongda Hospital for Anus and Intestine Disease loomed high over a busy street in eastern Beijing. But it recently gave way to "Dongda Proctology Hospital", said an article from Agence France Presse (AFP).
The Olympic Games, however, will not be the ultimate goal. "We will establish a long-term mechanism to keep good translations and try to plant them among the common people," Liu said.