The National Indoor Stadium (NIS), the venue where some of the most popular spectator sports of the Summer Olympic Games will take place in 2008, is nearing completion.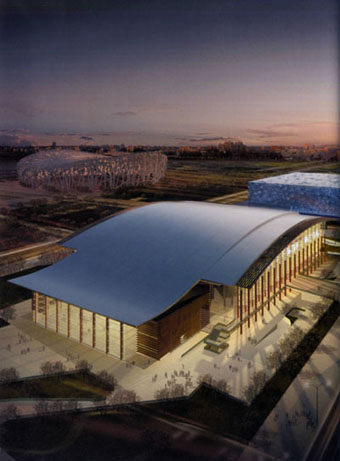 Located in the Olympic Green, the NIS will host the artistic gymnastics, trampoline and handball competitions. Its construction was started in May 2005. The flanges supporting the east and west facades, the main structure, the stand plates and the glide of the steel roof trusses have all been completed. Workers are now installing the glass curtain wall facades and fitting up the interior.
To insulate the building from noise and extreme temperatures, Chinese engineers have used an innovative nine-layer material for the roof of the building and a double-layer glass with pumped in argon for the curtain walls.
In order to save sand and give the stadium a distinctive "green label", 80,000 tons of slag, a residue from steel-melting, have been used to build the stadium basement.
Another feature of the NIS is its 300-square-meter platform at its "golden spectator area" north of the stand. Reserved for about 120 disabled people, it is accessible through a ramp with a gentle slope and six special lifts.
The stadium, which has a land surface of 80,900 square meters and can be used for various kinds of sport competitions and cultural activities, will serve as a multi-functional sporting center after the Olympic Games.