Ticket prices for the 2008 Beijing Olympic Games will be much lower than at previous Games and affordable for most people, organizers said Wednesday while releasing a "people-oriented" plan.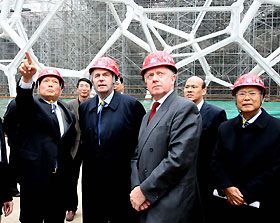 International Olympic Committee president Jacques Rogge (L2) and 2008 Beijing Olympics organizing committee president Liu Qi(L1) visit the construction site of the National Swimming Center on October 24, 2006. [Xinhua]


Affordability was a key factor in setting prices, according to officials of the Beijing Organizing Committee for the Games of the XXIX Olympiad (BOCOG).

There will be 7 million tickets for sale and Chinese spectators will have access to at least half of them, a ratio higher than in recent Games.

According to the plan, 58 per cent of the tickets will be priced at or below 100 yuan (US$12.76), with some even 10 yuan (US$1.27) or lower for students.

Tickets for the opening ceremony will cost 200 to 5,000 yuan (US$25.5-638), and for the closing ceremony, 150 to 3,000 yuan (US$19-382).

About 60,000 tickets will be available for the opening ceremony for ordinary spectators.

For competitions, the prices for preliminary sessions will range from 30 to 300 yuan (US$3.8-38), rising to 60 to 1,000 yuan (US$7.6-127) for the finals.

As part of the Olympic Education Programme, BOCOG has allocated 14 per cent of all tickets at special prices to encourage attendance from Chinese youth. Student tickets will be 5 yuan (US$0.64) for preliminaries and 10 yuan for finals.

Tickets will be available in the country during the first half of next year; and more details of the ticketing programme will be released then, said a statement on BOCOG website.

Beijing Gehua Ticketmaster Ticketing Co Ltd, a Sino-US consortium of ticketing agencies, was selected as an exclusive service provider for BOCOG in October.

The most expensive ticket for the 2008 opening ceremony costs half of what it was in Athens, and the lowest, only 20 per cent. The prices for sporting events are 30 per cent of what they were at previous Games.

Although the prices are low, BOCOG officials said they are confident that it won't affect income.

"There are 1.3 billion people in China and we hope to let as many people as possible enjoy the Games," said BOCOG President Liu Qi earlier. "Since the marketing programme is going well, making a profit is not the key concern when we made the ticket policy."

Economic experts agreed. "The low prices are in tune with ground realities, and will help more people watch the Games," said Wei Jizhong, president of the Beijing Olympic Economy Research Association.

"Filling the venues with spectators is much more important than making profits. We are people-oriented, not money-oriented."

But Wei warned about problems expected to crop up during ticket sales. "The low prices will make some tickets hard to get hold of. We must crack down on the black market."

To avoid speculation, BOCOG is considering limiting the number of tickets each person is allowed as well as a real-name system.

While welcoming the low prices, some people expressed worries about a possible shortage of tickets.

"There are bound to be many scalpers," said a salesman surnamed Zong, who supports a real-name system for ticket purchases.