Overseas media will be able to freely travel around China and enjoy uncensored access to the Internet during the 2008 Beijing Olympics, organizers promised on Wednesday, September 27.
"We have no restrictions on travel for foreign journalists in China," Sun Weijia, head of media operations for the Beijing Organizing Committee for the Games of the XXIX Olympiad (BOCOG), told the Olympic World Press Briefing. "They can travel anywhere in China."
Liu Qi, president of BOCOG, said detailed new regulations on the operation of foreign media would be in place early next year.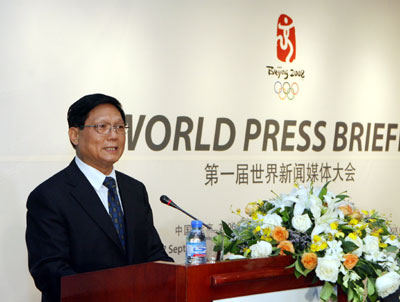 Liu Qi, president of BOCOG, speaks at the Olympic World Press Briefing in Beijing September 27, 2006. [Xinhua]


"The new rules will consider the norms of the past Games and the needs of the media.

"The Chinese Government will honour our promises and commitments made during our bid to host the Games."

Media services head Li Jingbo said the Internet service provided to news services at the Games would be uncensored.

Organisers also told the briefing that foreign media would have access to the Chinese team, although journalists would have to apply three weeks in advance to interview local Olympians.

Measures taken to ensure a sound working environment for foreign journalists are contained in a regulation that will exempt foreign journalists with Olympic identity and accreditation cards from having to hold a visa. Instead their identity cards will allow them to make multiple entries into China during the Games.

Journalists will be able to get temporary entry permission for overseas vehicles, and will be able to apply for temporary driving permits.

They will also be able to rent apartments and offices through local real-estate agencies.

The Press Commission of the Chinese Olympic Committee will help foreign journalists set up interviews with Chinese athletes.

Foreign media organizations will be able to install their own radio equipment during the Games and can bring equipment into the country tax-free.

They will also be able to apply for permission to film cultural relics through the BOCOG, which will acquire permission from the State Administration of Cultural Heritage on their behalf.

And the BOCOG will help organizations which want to aerially film Olympic events get permission from the relevant authorities.

Another new policy will regulate foreign media organization's employment of Chinese citizens during the Games.