Xi attends Russia's V-Day parade, marking shared victory with Putin
Updated: 2015-05-09 20:57
(Xinhua)
Comments
Print
Mail
Large
Medium
Small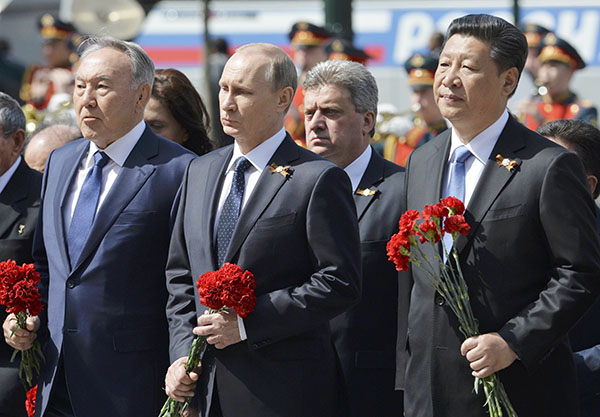 Russian President Vladimir Putin (C), Kazakhstan's President Nursultan Nazarbayev (L) and China's President Xi Jinping take part in a wreath laying ceremony at the Tomb of the Unknown Soldier on the Victory Day by the Kremlin walls in central Moscow, Russia, May 9, 2015. Russia marks the 70th anniversary of the end of World War Two in Europe on Saturday with a military parade. [Photo/Agencies]
MOSCOW - Chinese President Xi Jinping on Saturday attended a grand military parade held in Moscow to mark the 70th anniversary of the victory of the Great Patriotic War, Russia's term for World War II (WWII).
Xi, hosted by Russian President Vladimir Putin, was among more than 20 leaders of countries, regions and international organizations to attend the commemorative event.
President Xi and his wife Peng Liyuan were welcomed by Putin at the Kremlin on Saturday morning. Accompanied by Putin, Xi, together with other distinguished guests, walked to Red Square and ascended to the reviewing stand to watch the Victory Day parade.
At 10:00 a.m. (0700GMT), the commemorative event began. Eight guards of honor marched into Red Square carrying Russia's national flag amid the WWII-themed song -- "the Sacred War".
Delivering a speech at the event, Putin said the victory of the Great Patriotic War was decisive for the WWII and saved Europeans from Nazi Fascism.
He noted in particular that China was the main battlefield in Asian countries' resistance against militarism in WWII, sacrificing millions of lives.
The Russian president stressed that the commemoration today is meant to build a peaceful and tranquil future based on equality and non-alignment among countries.