Landmark agreements signed with Kazakhstan
Updated: 2015-03-28 06:46
By ZHAO YINAN (China Daily)
Comments
Print
Mail
Large
Medium
Small
Premier also meets with President Widodo of Indonesia, encourages investment by Chinese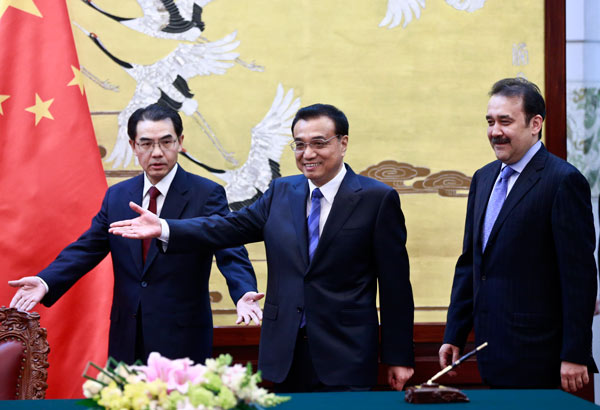 Premier Li Keqiang meets with visiting Prime Minister Karim Masimov of Kazakhstan (right) at the Great Hall of the People in Beijing on Friday. They witnessed the signing of several cooperative agreements. FENG YONGBIN/CHINA DAILY
China's effort to export its industrial capacity to other countries recorded another success on Friday with the signing of landmark deals with resource-rich Kazakhstan worth $23.6 billion to help restructure the Central Asian country's economy.
Premier Li Keqiang and visiting Prime Minister Karim Masimov of Kazakhstan agreed on wide-ranging industrial cooperation after meeting for talks in Beijing. The initiatives include the construction of highways, urban railways, hydropower plants, wind power plants and other infrastructure, in addition to deals on automobile and elevator manufacturing.
The deals signed on Friday are the first of an expected harvest from a preliminary consensus about the export of China's advanced industrial capacity to oil-dependent Kazakhstan that the two leaders agreed to during Li's visit to the country in December.
"We sowed the seeds in Kazakhstan in winter, and now the seeds have thrived," Li said during the meeting with Masimov.
Li said he hopes China's industrial cooperation with Kazakhstan will become a "showcase for similar cooperation with other countries".
Masimov, accompanied by his investment minister, energy minister and corporate leaders, said the initial success signals a bright outlook for future cooperation.
Kazakhstan is China's second-largest trade partner in the Commonwealth of Independent States and China's first investment destination in Eurasia. China is the second-largest trade partner and the largest export market for Kazakhstan. But Kazakhstan has been struggling to deal with falling oil prices and a weakened rouble, which has led to an increase of Russian imports in the domestic market.
Xing Guangcheng, a research fellow at the Chinese Academy of Social Sciences, said Kazakhstan is a key member of Silk Road initiative proposed by Beijing, and its cooperation with China showcases how the concept can be used to the advantage of both countries.
Kazakhstan's industrial cooperation with China has added another entry on the list of countries that can benefit from the export of Chinese capacity.
Also on Friday, Li encouraged Chinese enterprises, either State-owned or private, to invest in Indonesia, especially in railways, ports and other infrastructure, after meeting with the visiting Indonesian leader, President Joko Widodo.
Li said that the export of China's advanced capacity is a good match with Indonesia's need for industrial restructuring and upgrading of infrastructure, and that the large population of the country-about 200 million-represents a huge market for Chinese businesses to explore.