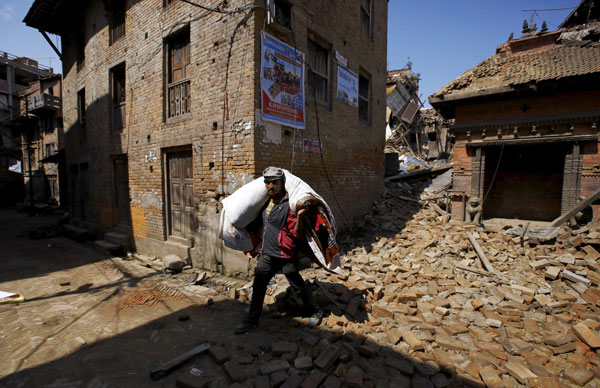 A man carrying bedding walks past rubble of collapsed houses following Saturday's earthquake in Bhaktapur, Nepal April 27, 2015.[Photo/Agencies]
KATHMANDU -- Death toll climbed to 3,815 following a massive 7.9-magnitude earthquake in Nepal Saturday, while 7,046 sustained injuries, says the country's ministry of foreign affairs Monday.
Some in the government fear the toll from Saturday's 7.9 magnitude quake could rise to as much as 5,000.
Central Nepal is the most affected part of Nepal by Saturday's earthquake.
The 7.9-magnitude quake jolted central, western, mid-western and far-western parts of Nepal, which was followed by at least 15 strong aftershocks, with the last one of 6.7 magnitude occurred on Sunday afternoon.
Thousands of Nepalis began fleeing the capital Kathmandu on Monday.