Tagore: Grow like summer flower
Updated: 2014-09-19 03:50
By WU JIAO in New Delhi and ZHANG YUNBI in Beijing (China Daily)
Comments
Print
Mail
Large
Medium
Small
Xi cites Indian poet to explain Beijing's increasing priorities in southern Asia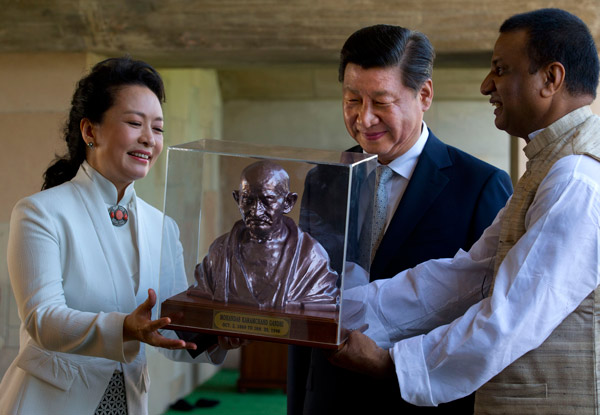 An official presents a bust of Mohandas K. Gandhi to President Xi Jinping and first lady Peng Liyuan during their visit to Rajghat, the memorial to the independence leader, in New Delhi, India, on Thursday. [Photo/Agencies]
President Xi Jinping has quoted a wide range of respected prominent figures and idiomatic phrases from China and India to illustrate Beijing's diplomatic philosophy and its increased priorities in South Asia.
In a speech at the Indian Council of World Affairs during his state visit to the country, Xi quoted prestigious Indian figures like Rabindranath Tagore, Mohandas K. Gandhi and Jawaharlal Nehru.
"Grow like a summer flower, magnificently; die like an autumn leaf, quietly and beautifully!" Xi said, quoting Tagore, adding that he had read several poetry collections of the late Nobel Prize winner in literature.
To boost cultural exchanges with South Asian countries, China will provide 10,000 scholarships to the region, provide training to 5,000 people and help cultivate 5,000 Chinese-language teachers, Xi said.
"Spiritual resonance is something that goes way beyond the reach of politics and the economy," said Sun Shihai, a researcher on Southern Asian studies at the Chinese Academy of Social Sciences.
In the speech, Xi said all South Asian countries are "China's important cooperative partners", and he defined the cooperative agenda as "a huge treasure to be exploited".
Beijing is striving to boost Sino-South Asian annual trade to $150 billion in the following five years, and China's investment in the region will increase to $30 billion, the president announced.
"China looks forward to working along with India to contribute more strength to the original development and make the 3 billion people on both sides of the Himalayas share peace, friendship, stability and prosperity," Xi said.
Fu Xiaoqiang, an expert on South Asian studies at the China Institutes of Contemporary International Relations, said China has taken a "balanced approach" when designing its South Asian policies - presenting priorities placed in both the regional power of India as well as the other small and mid-size countries.
Xi said that a peaceful, stable, developing and prosperous South Asia "serves the interests of the countries and people of the region as well as China".
To illustrate Beijing's unchanged commitment to its peaceful development path, Xi quoted an ancient Chinese saying: "Do unto others as you would be done by."
China will provide concessional loans worth $20 billion in total to the South Asia countries, he announced.
In the speech, the Chinese president mentioned two transcontinental connectivity strategic initiatives - the Silk Road Economic Belt, and the 21st Century Maritime Silk Road - both of which were first proposed last year.
Xi said the two initiatives aim at "boosting connectivity among the countries on the routes, and achieving common economic prosperity, reciprocal trade and interconnected public opinions".
"China hopes that the belt and the road will be two wings that fly together with South Asian countries," Xi said.
Zhou Gang, former Chinese ambassador to India, said the Maritime Silk Road is a platform of great openness, and many South Asian countries have already been bought into the initiative, such as the Maldives, Sri Lanka, Bangladesh and Pakistan.