Scholar: Trust is the biggest challenge
Updated: 2014-09-18 03:30
(China Daily)
Comments
Print
Mail
Large
Medium
Small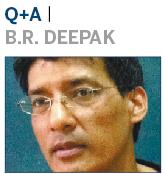 Editor's note: Professor B.R. Deepak is a senior researcher at the Center of Chinese and Southeast Asian Studies at Jawaharlal Nehru University. He earned his postgraduate diploma at Peking University of China in 1993 after two years' study. He has written two books on the China-India relationship and edited two others on Chinese history and literature. Reporter An Baijie talked with Deepak on Sept 11.
What do you think of the current Sino-India relationship?
The relationship is quite good. There are lots of high-level visits, and President Xi Jinping met in Brazil with India's Prime Minister Modi in July. Even before that, when Modi was governor of Gujarat, he visited China many times.
The trade and economic relationship should be strengthened further, because there are lots of complementary aspects in relations between China and India.
From a regional perspective, India should join hands with China. I am very impressed by the proposal of "One Belt and One Road" (the Silk Road Economic Belt and the 21st Century Maritime Silk Road) raised by the Chinese government. India tends to benefit from such projects. If we look back into history, both India and China have been partners in the Silk Road.
How can the two countries cooperate with each other?
China's technology is mature enough. From India's point of view, China's technology is good, and the price is better.
China no longer would like to invest in heavy industry because its economy has reached a certain level and scale, and it can think of investing in high-end products. But India is the opposite; it doesn't have a strong industry. So with China's experience, capital and technology, India could see a difference.
What do you think are the challenges in the relationship between China and India?
The "trust deficit" is the biggest challenge for the two countries. They have not been able to have a full handshake across the Himalaya due to lack of trust.
Border issues are the biggest problem that caused the trust deficit, and they should be resolved. Even though there are problems, there should be no hindrance in expanding our relationship. Both countries should work out a mechanism to resolve this issue.
We have also made lots of progress because we had maintained peace along the border for the last so many decades. We have not fired a single shot across the border since 1967. So we should have confidence.
There are also challenges at the global level, including terrorism, that both China and India are facing.