Xi says China regards Sri Lanka as all-weather friend
Updated: 2014-09-17 17:04
(Xinhua)
Comments
Print
Mail
Large
Medium
Small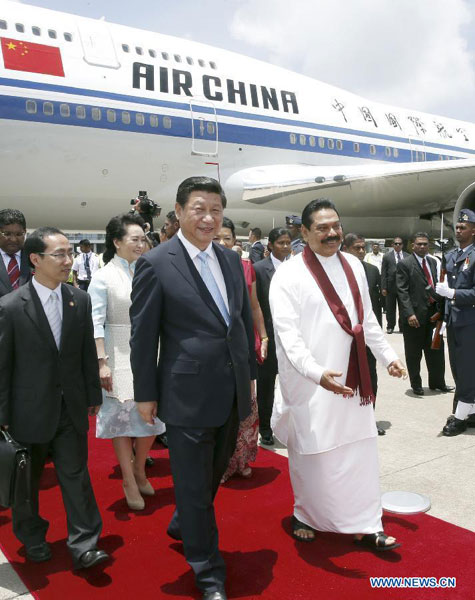 Chinese President Xi Jinping (L, front) and his wife Peng Liyuan (3rd L) are welcomed by Sri Lankan President Mahinda Rajapaksa (R, front) upon their arrival in Colombo, Sri Lanka, Sept. 16, 2014. Xi Jinping arrived here Tuesday for a state visit to Sri Lanka. [Photo/Xinhua]
COLOMBO -- China regards Sri Lanka as an all-weather friend and partner, Chinese President Xi Jinping said Wednesday when meeting with Sri Lankan Parliament Speaker Chamal Rajapaksa.
China appreciates Sri Lanka's stance to support China on the issues of Taiwan and Tibet, said Xi, adding that China supports Sri Lanka's efforts in safeguarding independence, sovereignty and territorial integrity and will contribute to Sri Lanka's economic and social development as always.
Under the new situation, China is willing to work with Sri Lanka to seize the opportunity of jointly building the 21st Century Maritime Silk Road, strengthen mutual benefit and cooperation, expand people-to-people exchanges and constantly inject new vigor and positive energy to the bilateral ties, said the Chinese president.
Xi hoped the two countries would enhance legislative and party-to-party exchanges. He invited Rajapaksa and other parliament members to visit China to further deepen mutual understanding and friendship.
Rajapaksa noted that the peoples of China and Sri Lanka have long-held friendship, hailing that China has vigorously supported and participated in Sri Lanka's construction, which benefits the Sri Lankan people.
Xi's visit to Sri Lanka has greatly pushed forward the bilateral cooperation, he said, adding that the Sri Lankan Parliament is willing to maintain friendly exchanges with China's National People's Congress and promote the bilateral ties.
Xi arrived here Tuesday for a state visit to Sri Lanka. The island country is the third leg of Xi's ongoing four-country Asia trip, which has already taken him to Tajikistan and the Maldives and will also take him to India.