Chinese, Maldivian presidents meet on ties
Updated: 2014-09-15 15:27
(Xinhua)
Comments
Print
Mail
Large
Medium
Small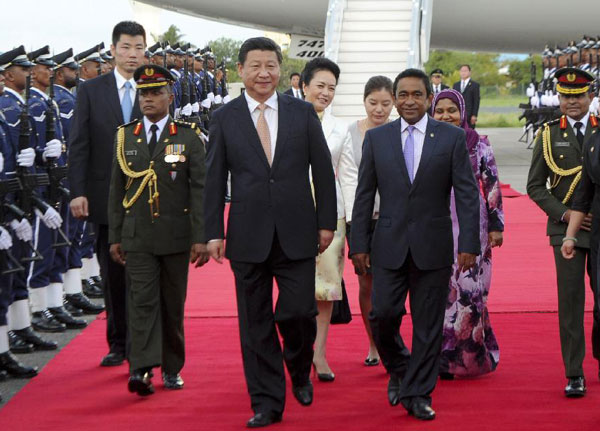 Chinese President Xi Jinping (L front) and his wife Peng Liyuan (4th L) are welcomed by Maldivian President Abdulla Yameen (R front) upon their arrival in Male, Maldives, Sept. 14, 2014.[Photo/Xinhua]
BEIJING -- Chinese president Xi Jinping has started his state visit. This is the first official visit from a Chinese head of state to the central Indian Ocean island country since the two countries established diplomatic relations in 1972.
Maldivian President Abdulla Yameen greets President Xi Jinping at Male International Airport.
An enthusiastic crowd of locals in traditional costumes, holding banners and performing cheerful songs and dances, came out to welcome the first Chinese president to visit the country in more than four decades.
In a statement delivered upon his arrival, Xi noted that bilateral relations have been developing in a healthy and stable manner.
He said China stands ready to make joint efforts with Maldives to further cement their traditional friendship and deepen mutually beneficial cooperation.
Yameen said he looks forward to having in-depth exchanges with President Xi on relations, and help turn the two countries into good friends and good partners with ever closer relations.
And he said he totally agreed with the proposal Xi put forward in an article published ahead of the trip.
In the article, Xi Jinping called for both countries to seize opportunities to boost their friendship and intensify cooperation and lift relations to new heights.
He said China welcomes Maldives to participate in the 21st century Maritime Silk Road initiative, to enhance maritime cooperation.
Maldives is the second leg of Xi's four-nation trip. He is next scheduled to visit Sri Lanka and India.
Related stories:
Backgrounder: Major events about China-Maldives relations