'Lonely island' becomes bustling land port
Updated: 2014-09-15 04:33
By Cui Jia in Tashkurgan, Xinjiang (China Daily)
Comments
Print
Mail
Large
Medium
Small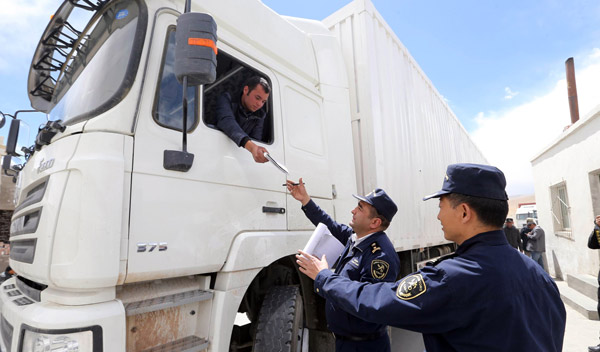 Customs officers check a freight truck at the Kalasu land port, in the Xinjiang Uygur autonomous region, on June 12. The port is the only international freight passage connecting China and Tajikistan. Li Xiongxin / For China Daily
The volume of overland trade passing through Kalasu, the only land port between China and Tajikistan, has grown more than 810 times during the past decade, a senior customs official said.
Kalasu is in the Pamir Plateau in the Xinjiang Uygur autonomous region. Its name means "black water" in the Tajik language.
The port's highest point is at 4,368 meters, and it is located 62 km from Tashkurgan, China's only Tajik autonomous county in Xinjiang's Kashgar prefecture. It is 1,009 km from Dushanbe, the capital of Tajikistan.
"We call Kalasu the lonely island because it is in the middle of nowhere," said Abulimit Abudulkerim, deputy commissioner of Kalasu customs. "There is no village or buildings nearby, but the lonely island is irreplaceable."
Abulimit said the site is called "black water" for a reason. Studies showed that the underground water in the area contains radioactive substances, so all drinking water for customs and border control officials must be brought in from Tashkurgan.
The port opened in 2004 and is 14 km from Tajikistan, which shares 450 km of border with China. The only road between Kalasu and the border runs through rocky mountains, and Abulimit said it urgently needs to be upgraded to cope with the surge in trade.
"The political situation in Tajikistan has become stable, and its economy has begun to grow steadily, so it needs to import significant quantities of infrastructure materials from China," said Fei Lixin, commissioner of Kalasu customs.
"Currently, 100 to 300 container trucks pass through Kalasu each day, and 99 percent of them are carrying goods to Tajikistan. Tajikistan mainly imports infrastructure materials, machinery, vehicles and daily goods, and it exports copper ingots and cotton yarn to China."
According to China Customs, trade volume in Kalasu reached $1.37 billion last year, accounting for almost 70 percent of the total trade volume between China and Tajikistan. The figure represents a 79 percent year-on-year increase.
In 2004, the trade volume was only $1.68 million, said Fei.
Tajikistan previously imported goods from China via Kyrgyzstan. However, Kyrgyzstan imposed restrictions on cargos in recent years, so Kalasu has become the only land channel for Chinese exports.
"Tajik officials have told me that they see Kalasu as a key to unlock their landlocked country," he said.
A border trade zone is being built in Tashkurgan, which borders Tajikistan, Pakistan and Afghanistan. It is due to be completed in 2017 and will help business from each of the countries to conduct trade.
cuijia@chinadaily.com.cn