Work starts on major stage of gas pipeline
Updated: 2014-09-15 04:22
By WU JIAO in Dushanbe and DU JUAN in Beijing (China Daily)
Comments
Print
Mail
Large
Medium
Small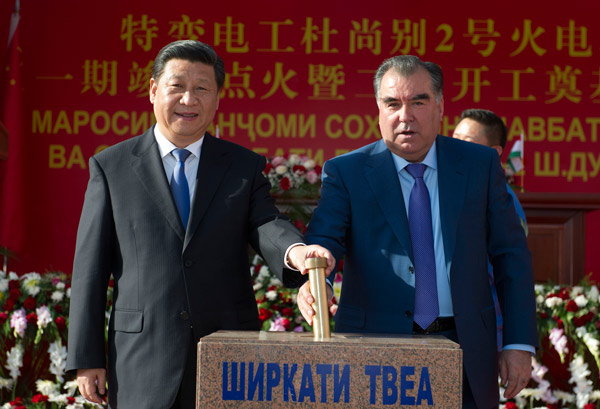 President Xi Jinping and his Tajik counterpart, President Emomali Rahmon, attend the foundation-laying ceremony of the construction of China-Central Asia gas pipeline Line D in Tajikistan on Saturday. [Photo/Xinhua]
President Xi Jinping and Tajikistan's President Emomali Rahmon of Tajikistan saw the start of work on the China-Central Asia gas pipeline's Line D construction on Saturday in Tajikistan.
The project is a major stage of another important energy channel for the world's second-largest economy.
"The China-Central Asia gas pipeline project, which involves multiple participants, will significantly boost the regional economic development," Xi said during the ceremony.
China currently has three natural gas pipelines with Central Asian countries.
The 1,000-kilometer Line D is the fourth, with 410 km in Tajikistan. It will also pass through Uzbekistan, and Kyrgyzstan, to deliver gas from Turkmenistan to China.
The pipeline will become operational in 2016, with a designed delivery capacity of 30 billion cubic meters annually.
According to Rahmon, the Line D project will create more than 3,000 jobs in Tajikistan.
When the new line is combined with the three other pipelines, China will eventually import 85 billion cubic meters of natural gas annually from Central Asian countries.
China imported 53 billion cubic meters of natural gas last year, a 25 percent increase year-on-year, according to China National Petroleum Corp, the country's state-owned energy giant.
Zhou Jiping, chairman of CNPC, said during a previous interview with China Daily that the use of natural gas has gained far greater prominence in recent times, as China struggles with its ongoing battle against carbon emissions.
The current three-pipeline network passes through Uzbekistan and Kazakhstan and then arrives at China's western Xinjiang Uygur autonomous region.
By the end of China's 13th Five-Year Plan in 2020, all four lines of the China-Central Asia gas pipeline network will account for at least 40 percent of China's total imported gas supplies, according to CNPC.
On Saturday, Xi also attended the groundbreaking ceremony for the second phase of the Dushanbe power station.
Rahmon said a shortage of power is the main obstacle to Tajikistan's economic development, and the Dushanbe power station project has raised the energy supply level in the country and demonstrated the strategic partnership between China and Tajikistan.
In 2009, Tajikistan signed an agreement with China's Xinjiang Tebian Electric Apparatus Stock Co for two thermal power stations in the capital.
The first phase of the power station project was completed in August and the second phase is scheduled to be completed in 2016.
Tajikistan's Prime Minister Kokhir Rasulzoda said during his meeting with Xi that the country would like to attract more Chinese companies to invest in the infrastructure, energy and resources sectors of the economy.
The two sides have approved a five-year China-Tajikistan strategic partnership, which will increase their bilateral trade volume by 1.5 times its current level to $3 billion.