More Chinese fall under spell of the Maldives
Updated: 2014-09-15 02:25
By ZHANG YI (China Daily)
Comments
Print
Mail
Large
Medium
Small
Honeymoon couples lead the way as number of tourists heads for 350,000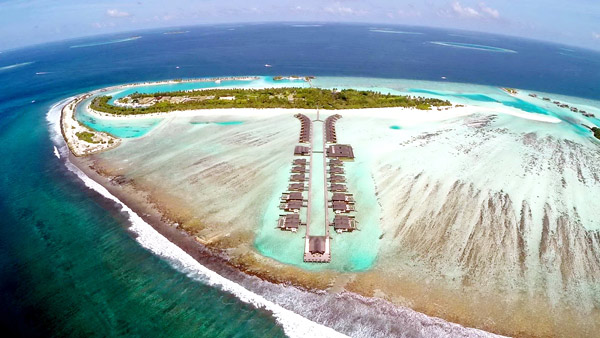 The Maldives is made up of more than 1,200 coral islands. [Photo/Xinhua]
"The Maldives is the first choice if you need a paradise for your soul."

Zhang Lei, who wrote that description in a travel column for the Netease website, was one of 330,000 Chinese who visited the Maldives last year. The island chain in the Indian Ocean is a popular tourist destination for the Chinese, particularly honeymoon couples.
As China has accounted for the largest share of tourists visiting the Maldives for the past four years, Chinese tourist agencies are optimistic about future business.
"The number of Chinese tourists to the Maldives is expected to hit 350,000 in 2014," said Yan Xin, a representative of Ctrip.com International, a Nasdaq-listed major online tourist agency in China.
Ctrip introduced the concept of reserving an entire island in the Maldives for Chinese tourists. Vacations sold out soon after the idea was launched, with 45 honeymoon couples among the 244 tourists who booked reservations, according to the company.
Chen Fang, manager of the islands tourism department at Beijing-based U-tour travel agency, said her business expects the number of Chinese tourists visiting the Maldives this year to rise by 25 percent, and she is confident that this trend will continue in the next couple of years.
"The Maldives tourist market is mature," she said, adding that the business has continued to grow since they introduced a Maldives tourist program in 2008.
Tuniu, one of the top online tourist agencies in China, is offering package deals to the Maldives during the coming China's National Day holiday from Oct 1 to 7.
Palm Republica, a Male-based travel agency, reported a year-on-year growth of 50 percent in the number of customers from China.
Li Xiang, a professor at the Beijing Union University's Institute of Tourism, said the Maldives offers a highly exotic tourist experience for the Chinese.
"The Maldives has placed importance on the Chinese market and made huge efforts in commercial promotion," she said, adding that the Maldives is able to provide good service and that convenient flights make access easy from China.
"The Maldives will remain a popular holiday destination for the Chinese in coming years, and China will become the tourist generating market for more destinations as Chinese people become wealthier," she said.
zhang_yi@chinadaily.com.cn