China eye to eye with Kazakhstan on enriching co-op with $14b deals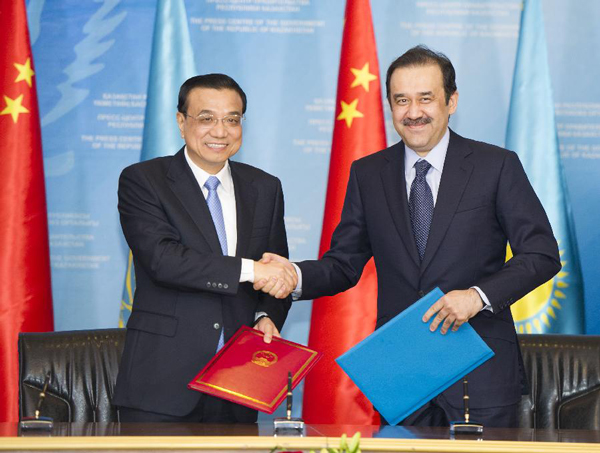 Chinese Premier Li Keqiang (L) and his Kazakh counterpart Karim Masimov attend a signing ceremony of bilateral cooperation documents in Astana, Kazakhstan, Dec 14, 2014. [Photo/Xinhua]
ASTANA - China and Kazakhstan, a pair of traditional friends, see eye to eye with each other all the more with a series of newly-signed cooperative deals worth about $14 billion.
The agreements were inked Sunday during Chinese Premier Li Keqiang's visit to the Central Asian country.
In Astana, Li made crystal-clear China's willingness to work with Kazakhstan to create new growth points and bright spots in cooperation and build new engines for common development.
The two sides should continue deepening energy cooperation, advancing the construction of a gas pipeline linking them, implementing their memorandum of understanding on nuclear cooperation, and exploring interaction opportunities in photovoltaic and coal chemical fields, Li told his Kazakh counterpart Karim Masimov during a meeting here.
In the meantime, China is also willing to tap complementary economic advantages and expand cooperation in non-energy fields with Kazakhstan, Li said.
He called on the two sides to further optimize the structure of bilateral trade and two-way investment, saying China supports its competitive enterprises to invest in Kazakhstan.
He also urged the two sides to promote interconnectivity, push forward cooperation in the areas of logistics, transportation and communication, and facilitate trade and personnel exchanges.
The two nations, he added, should strengthen local cooperation, establish cultural centers in the other country and consolidate public support for bilateral ties.
Li said China will also conduct friendly cooperation with Kazakhstan on utilization and exploration of cross-border water resources.
The two sides should expand their cooperation scope from big-enterprise investors to small and medium-sized ones, and from central or key cities to other regions, Li told a joint press conference after his talks with Masimov.
They should explore cooperation opportunities in intensive processing of natural resources, equipment manufacturing and agriculture, which will not only extend industry and value chain to create more values, but also provide new impetus to bilateral cooperation, Li said.
He also stressed that the two sides can jointly develop third party markets, as he addressed a meeting of bilateral entrepreneurs' committee.
While meeting with Kazakh President Nursultan Nazarbayev, Li said China will actively participate in implementing Kazakhstan's "Bright Road" initiative that is aimed at revitalizing the country's economy, and jointly promote infrastructure construction cooperation, such as developing steel works, power plants and building railroads.
Kazakh leaders echoed Li's ideas, with Nazarbayev vowing Kazakhstan's support for the China-proposed initiatives of the construction of the Silk Road Economic Belt and the 21st Century Maritime Silk Road, and Masimov's promise of his country's active participation in helping build the Asian Infrastructure Investment Bank, as well as strengthened coordination within the framework of the Shanghai Cooperation Organization (SCO) with China.
The two sides further detailed their cooperation ambitions with a joint communique issued after the meeting between Li and Masimov.
According to the document, the two sides agreed to deepen collaboration in the area of confidence-building measures, to allow CICA, or the Conference on Interaction and Confidence Building Measures in Asia, to play a greater role in the future.
The two countries will work with other CICA members to intensify cooperation in related areas and improve the mechanism of this inter-governmental forum for dialogues on regional security issues in Asia.
Both countries are key members of CICA: the idea of CICA was first proposed by Kazakh President Nursultan Nazarbayev in October 1992, while China assumes the chairmanship of CICA for the 2014-2016 period.
Also, the two sides would like to tap into the potential of hi-tech cooperation and further advance bilateral aerospace cooperation, read the communique.
The two countries agreed to jointly establish a technical cooperation center as both sides have huge cooperation potential in hi-tech field, innovation and transformation of scientific achievements.
They hoped that mainstream hi-tech organizations and enterprises from both sides would carry out exchanges and develop partnership with each other.
Meanwhile, in the communique, both sides decided to set up a joint working group to study bilateral cooperation mechanism and direction.
After his official visit to Kazakhstan, Premier Li will attend a prime ministers' meeting of the SCO in Astana on Monday.