Strengthening Sino - Kazakh ties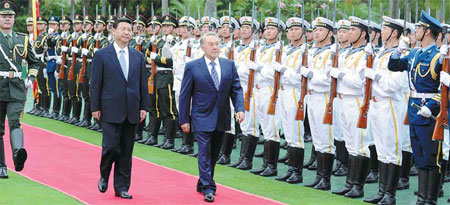 Chinese President Xi Jinping and his Kazakh counterpart Nursultan Nazarbayev inspect an honor guard during Nazarbayev's state visit to China in April, 2013. Photos Provided to China Daily
Numerous high-level visits reconfirm bilateral relations
A priority in Kazakhstan's foreign policy is developing a comprehensive strategic partnership with China as 2014 marks the 22nd anniversary of Chinese-Kazakh diplomatic relations, the Central Asian nation's ambassador to China said.
Nurlan Yermekbayev told China Daily that "a special role in friendly relations between the two countries are the traditionally close and regular contacts of the countries' top leaders".
From 1993 to 2012, President of the Republic of Kazakhstan Nursultan Nazarbayev met 33 times with former Presidents of China Jiang Zemin and Hu Jintao. And state visits by President Nazarbayev to China in April 2013 and President Xi Jinping to Kazakhstan in September 2013 reconfirmed bilateral contacts at the highest levels.
The two presidents had already met seven times over the previous two years, confirming the continuity of foreign policy in the bilateral relationship aimed at further strengthening the strategic dialog.
During the Kazakhstan president's upcoming state visit to China this month, the two leaders will exchange views on the progress of ongoing joint economic projects and discuss new mutually beneficial initiatives in energy, industry, agriculture and other sectors, Ambassador Yermekbayev said.
The two governments have already started discussions about a package of bilateral agreements, said Yermekbayev. The two leaders are expected to sign a joint declaration during the meeting.
The ambassador said the Kazakh side is optimistic about the "Silk Road economic belt" initiative Chinese President Xi proposed.
Yermekbayev said that the great Silk Road was not only a road from the Pacific coast to the shores of the Mediterranean Sea, but also a complex cultural and economic bridge between East and West uniting people in their quest for peace and interaction. Kazakh President Nazarbayev for the first time proposed to develop cooperation between the countries along the Silk Road in the Address to the People of Kazakhstan in 1997.
The ambassador said that China's customs data shows bilateral trade has increased almost 300 times from $104 million in 1992 to $28.5 billion last year.
Today Kazakhstan has become the largest trade partner with China in Central Asia, and second after Russia among countries in Eastern Europe and the Commonwealth of Independent States. China is Kazakhstan's largest foreign trade partner, contributing more than 20 percent of the neighbor country's foreign trade.
The two countries' presidents have set a target to bring the trade volume up to $40 billion in a few years, said Yermekbayev. As Chinese investment projects create jobs for local workers, Kazakh people hail close cooperation between the two countries, he said.
With such a bright future for the partnership, the modern revival of the Silk Road is seen as a comprehensive expansion ranging from trade and investment to cultural and people-to-people cooperation.
New railways and highways linking East and West will be important for the region's future development, he said.
Yermekbayev said that taking into account cultural, historical, geographical and economic factors, he believes Kazakhstan will become a reliable link in the "Silk Road economic belt" and the "Eurasian bridge" between the market of 800 million people in Europe and 4 billion in Asia.
In addition to economic cooperation, regional stability and security will be another priority of President Nazarbayev's visit to China.
Presidents Xi and Nazarbayev, along with many other world leaders, will attend the fourth summit of the Conference on Interaction and Confidence Building Measures in Asia, also known as CICA, which will open in Shanghai on Tuesday.
Chinese Foreign Ministry spokeswoman Hua Chunying quoted Foreign Minister Wang Yi saying that as chair of the CICA from 2014 to 2016, China will do its best to hold a productive summit under the theme of increasing dialog, trust and collaboration to build a peaceful, stable and cooperative Asia.
China's willingness to accept the CICA chairmanship directly indicates the recognition of the international forum authority, said Yermekbayev.
"Chinese chairmanship will give impetus to strengthening and further development of the forum and promote the concept of common and indivisible security in Asia through multilateral dialog, mutual interest and the desire to achieve consensus," said the ambassador.
When it comes to the educational and cultural exchanges of the two countries, Yermekbayev said the number of Kazakhs wanting to study Chinese is increasing, and many leading universities in Kazakhstan started courses in Chinese language.
Meanwhile about 1,000 Chinese students are studying in Kazakhstan. The majority are at Al-Farabi Kazakh National University, L.N. Gumilyev Eurasian National University, East-Kazakhstan University, Kazakh-British University, and KIMEP, said the ambassador.
Kazakhstan is giving warm welcome to Chinese students and tourists since the two leaders made an agreement during a 2013 meeting to make 2017 the tourism year of China to Kazakhstan. It will have a significant impact on further bilateral cooperation in tourism, he said.
As a pillar industry, tourism in Kazakhstan has rich resources and variety ranging from alpine to coastal landscapes and eco-tourism to education, healthcare and religious tours.
In the coming years the country will invest $9 billion in the industry, he said. Kazakhstan is elaborating a tourism plan for 2020 that aims to add infrastructure, new destinations and a modern tourism management system while offering internationally competitive goods and services.
As well, Kazakhstan intends to promote its tourism resources in 50 countries.
"We hope that in the nearest future tourism exchanges will become more arranged and active," Yermekbayev said. "We are waiting for Chinese tourists to visit the upcoming international Expo-2017 event in Astana."
renqi@chinadaily.com.cn