Rome to 'push' for Sino-EU trade deal
Italy will give a "big push" to China and the European Union for free trade talks, a senior Italian trade official said.
Riccardo Monti, president of the Italian Trade Agency, said that Italy, which currently holds the six-month EU presidency, will play its role to help launch such talks as soon as possible.
"Italy will send a 'big push' to start free trade agreement talks between Beijing and Brussels, and the time is ripe" for an agreement, Monti told China Daily on the eve of Premier Li Keqiang's arrival in Rome on Tuesday and following his visits to Germany and Russia.
"Free trade is a win-win situation, and it is not a zero-sum game. Italy and Europe will benefit from the liberalization of trade," Monti said. Trade between China and the EU is set to double from current levels to $1 trillion in 2020.
Monti will meet with Li and Italian Prime Minister Matteo Renzi at the second closed-door bilateral high-level business council, which will comprise top Chinese and Italian business leaders. They met for the first time to promote trade and investment in Beijing in June when Renzi visited China.
Monti, who has been involved in the business agenda of Li's visit to Italy, said the two leaders will discuss the free trade talks, given that the investment-pact negotiations between China and the EU have gone smoothly during the first round of talks.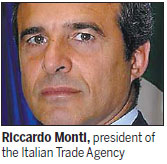 "The two leaders will touch on the topics of free trade," Monti said.
Li will also be meeting with top European officials during the Asia-Europe Meeting in Milan on Thursday and Friday, when he is likely to urge Brussels to act on the free trade talks.
When Li began his tour last week, Chinese Ambassador to the EU Yang Yanyi said Beijing looks forward to achieving a "comprehensive and deep" investment pact with Brussels. It also hopes to start feasibility studies of talks soon on a bilateral free trade agreement.
Brussels has conducted free trade talks with South Korea, Japan, India and ASEAN countries. Meanwhile, Brussels and Washington have been discussing the Trans-Atlantic Trade and Investment Pact.
Monti said Li and Renzi will also witness signing ceremonies for trade and investment agreement deals before the closed-door meeting in Rome, but the final number of the agreements is still unknown.
China's direct investment in Italy soared to 5.7 billion euros during the January-July period, five times China's total stock in Italy before 2014.
Chinese Ambassador to Italy Li Ruiyu has also said that Italy has always been ahead of the EU when discussing bilateral relations with China, and that is expected to continue.
Liu Jia in Brussels contributed to this story.
fujing@chinadaily.com.cn
(China Daily 10/15/2014 page3)