Li urges closer China-Britain cooperation in meeting with Labour chief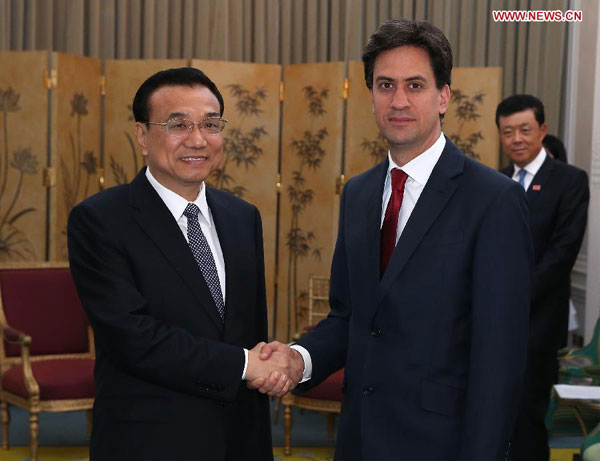 Chinese Premier Li Keqiang (L) meets with Leader of the British Labor Party Ed Miliband in London, capital of Britain, June 18, 2014. [Photo/Xinhua]
LONDON -- Visiting Chinese Premier Li Keqiang met Wednesday with British Labour Party leader Ed Miliband, and conveyed the hope that Labour will play an active role in further promoting the China-Britain partnership.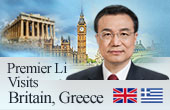 Hailing the Labour Party's long-time contribution to the development of China-Britain relations, Li said the hard-won relationship between the two countries today is worth cherishing by both nations.
With both the converging points of national interests and the potential fields for bilateral cooperation on the rise, the two countries can further enrich their exchanges and collaboration in various fields in the next five to 10 years, he added.
China, Li said, values its relations with the Labour Party and hopes that it will play an active role in boosting the China-Britain partnership of common growth and inclusive development.
For his part, Miliband said that to further deepen the Britain-China relationship is a consensus among British political parties both in and out of power.
The Labour Party, he added, always attaches high importance to Britain-China relations, and supports the two countries to strengthen dialogue and cooperation on bilateral ties and global issues such as climate change and pursue inclusive development.
The Chinese premier is in London for an official visit to Britain. His ongoing two-nation Europe tour will also take him to Greece.