Premier Li pledges to strengthen cooperation with India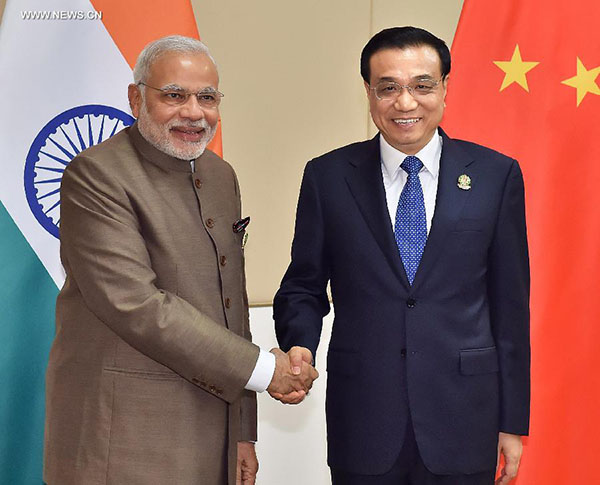 Chinese Premier Li Keqiang, right, meets with Indian Prime Minister Narendra Modi in Nay Pyi Taw, Myanmar, Nov. 13, 2014. [Photo/Xinhua]
NAY PYI TAW - Chinese Premier Li Keqiang said here Thursday that China will work with India to comprehensively upgrade their pragmatic cooperation.
Li made the pledge during a meeting with Indian Prime Minister Narendra Modi in Nay Pyi Taw. He said China is willing to work with India to grasp the overall direction in developing the bilateral ties and keep good-neighborly cooperation of mutual benefit as the main theme of their relations.
China is willing to comprehensively upgrade the pragmatic cooperation, enhance bilateral communication and coordination on global and regional issues, and work with India to benefit the billions of people in the two countries and the region.
Li said Chinese President Xi Jinping paid a successful visit to India recently, which ushered in new progress in the bilateral relationship.
The premier invited Modi to visit China early next year.
For his part, Modi said strengthened India-China cooperation benefits not only the two countries, but also the region and the world.
President Xi's recent visit to India was fruitful, Modi said.
Modi also appreciated the fact that Li chose India as the first stop of his first overseas trip as premier, and that Li was also the first foreign leader to have phone talks with him after he took office
Modi said he hopes to visit China soon and discuss with the Chinese side on how to further push forward the bilateral relations.
Li arrived here Wednesday to attend a series of leaders' meetings on East Asia cooperation and pay an official visit to Myanmar.