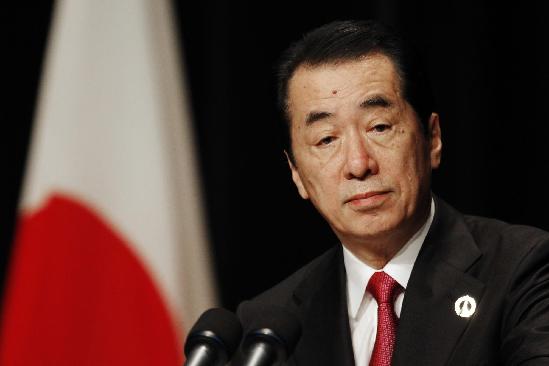 Japan's Prime Minister Naoto Kan attends a news conference at the end of the G8 summit in Deauville, northern France, May 27, 2011. [Photo/Agencies]
TOKYO - Seventy percent of Japanese voters want Prime Minister Naoto Kan to be replaced but nearly half think he should stay and oversee the initial stage of dealing with the March 11 disaster and ensuing nuclear crisis, a newspaper survey showed on Monday.
The opinion poll adds to growing pressure on the unpopular premier, who is under fire of his handling of the world's worse nuclear crisis in 25 years and is likely to face a no-confidence vote as early as this week.
Related readings:


 Japan's opposition party eyes no-confidence motion


 New leak feared at stricken Japan nuclear plant


 Japan's GDP to fall 0.9% in 2011: OECD


 Japan quake reconstruction may cost up to $184b
Nearly three fourth of respondents in the survey by Nikkei business daily said the government has done a poor job in tackling the crisis at the Fukushima Daiichi nuclear power plant, hit hard by the massive quake and tsunami more than two months ago.
Senior officials at the plant operator, Tokyo Electric Power Co (Tepco) , were quoted by Kyodo news agency as saying on Sunday that it would be impossible to stabilise the Fukushima plant by the end of this year.  
There "will be a major delay to work" to contain the situation, one Tepco official told Kyodo, given a recent revelation that three of six reactors at Fukushima had suffered meltdowns within days.
Only two weeks ago Tepco reaffirmed its plan to bring the plant to a safe shutdown by January, even though the utility acknowledged several setbacks in its efforts to cool the reactors.  
Japan's biggest opposition Liberal Democratic Party said last week it would submit a no-confidence motion to parliament. The motion could be submitted as early as this week, a senior LDP lawmaker said on Sunday and all opposition parties except for tiny Social Democratic Party have said they would back it.
But analysts say it remains doubtful whether the LDP could win over enough disaffected members of Kan's own Democratic Party for the no-confidence motion to pass. More than 70 out of more than 300 Democrats would have to defect to pass the motion.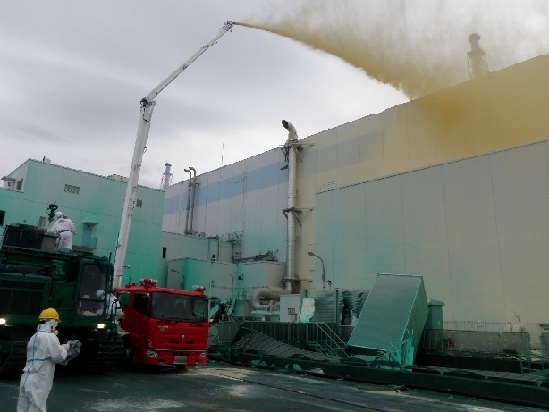 Workers spray a dust inhibitor at Tokyo Electric Power Co.(TEPCO)'s Fukushima Daiichi nuclear power plant in Fukushima, northern Japan, in this handout photo taken May 27, 2011 and released by TEPCO on May 28, 2011. [Photo/Agencies]