BERLIN - German Chancellor Angela Merkel on Thursday called for Israel and the Palestinians to restart peace negotiation "very quickly."
"The peace process must be restarted very quickly through Middle East peace talks," Merkel said after meeting visiting Palestinian President Mahmoud Abbas. "A unilateral measure will not be helpful," she said.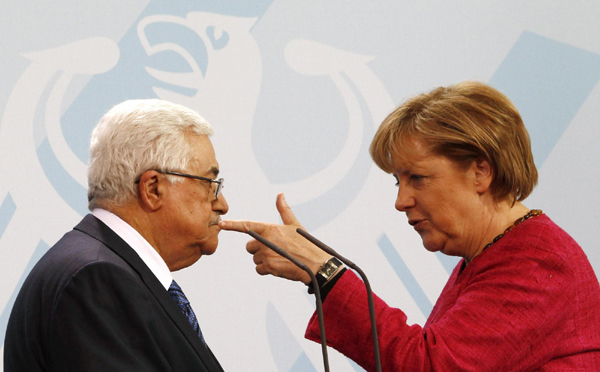 German Chancellor Angela Merkel (R) and Palestinian President Mahmoud Abbas leave a joint news conference after talks at the Chancellery in Berlin May 5, 2011. [Photo/Agencies]
Just one day before the visit the two leading Palestinian factions Fatah and Hamas inked a landmark reconciliation deal in Cairo, Egypt, putting an end to their four-year estrangement and paving the way for a concerted struggle for statehood.
As Hamas did not give up its anti-Israel position and renounce violence, Merkel reiterated Germany's three criteria for Middle East peace process -- the recognition of Israel's right to exist, a rejection of violence and a commitment to the negotiation process.
Abbs said at the moment he represents all the Palestinian people, and Hamas is also part of Palestinian people. The reconciliation between Fatah and Hamas will have positive effect on the peace process, he said.
Talks between the Israelis and Palestinians have been stalled since late September following Israel's refusal to extend a 10- month freeze on settlement activity in the occupied Palestinian territory.