LONDON - British government officials say that more than 5,500 street parties are being planned in honor of Prince William and his bride on April 29.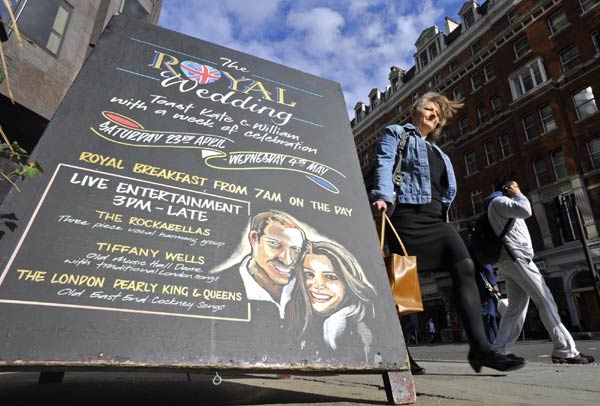 A sign stands outside a pub promoting Royal Wedding events, in central London April 4, 2011. Thousands of street parties will be held across Britain to celebrate Prince William's marriage to Kate Middleton, local government officials said on Saturday, as royal wedding fever grips parts of the country. [Photo/Agencies]
Figures collated by the Local Government Association show that, in London alone, there are some 800 applications for road closures for the day of the royal wedding.
But the figures released Saturday also hint at Britain's divisions, with fewer people in independence-minded Scotland planning street parties. In Glasgow, Scotland's largest city, officials said they hadn't receive a single request.
Local councils say they are aware of thousands of other parties being held that do not require official permission, making the total number much higher.